blog
Top Online Casino Innovations – How to Attract New Audiences
6 September 2022
Everywhere you look, there is innovation around us; every industry depends on that one company that will make waves. For the mobile/tech industry, it was Steve Jobs with The Apple I, and for the Online Casino world? It´s Evoplay. 
Innovation inspires us, it opens up never before seen opportunities, and it combines two or more familiar aspects into one ground-breaking idea. For us, those two aspects are entertainment and online casino games. 
Let's start by underlining why innovation is an integral part of the igaming industry and how through innovation, you can attract a much bigger audience that currently might not even be interested in your product. And this is precisely what we are doing at Evoplay – turning traditional online casino games into something a little spicier. 
Why the Online Casino Industry Needs Innovation
First, take a look at this statistic; a study done in the US in 2021 concluded that, In 2020's second quarter, most US casino mobile game players were 45 to 54 years old. Only 10% of gamers are younger than 24. And this is one of the main reasons why ensuring that your online casinos are filled with new and innovative games is important. The generations are changing, and so are the preferences with them. The younger generation is more innovation-thirsty, they want something new, something fresh, so we must adapt and gain their attention.
 As an example, let's take a look at Evoplay´s 2022 innovation-filled flagman game, Star Guardians.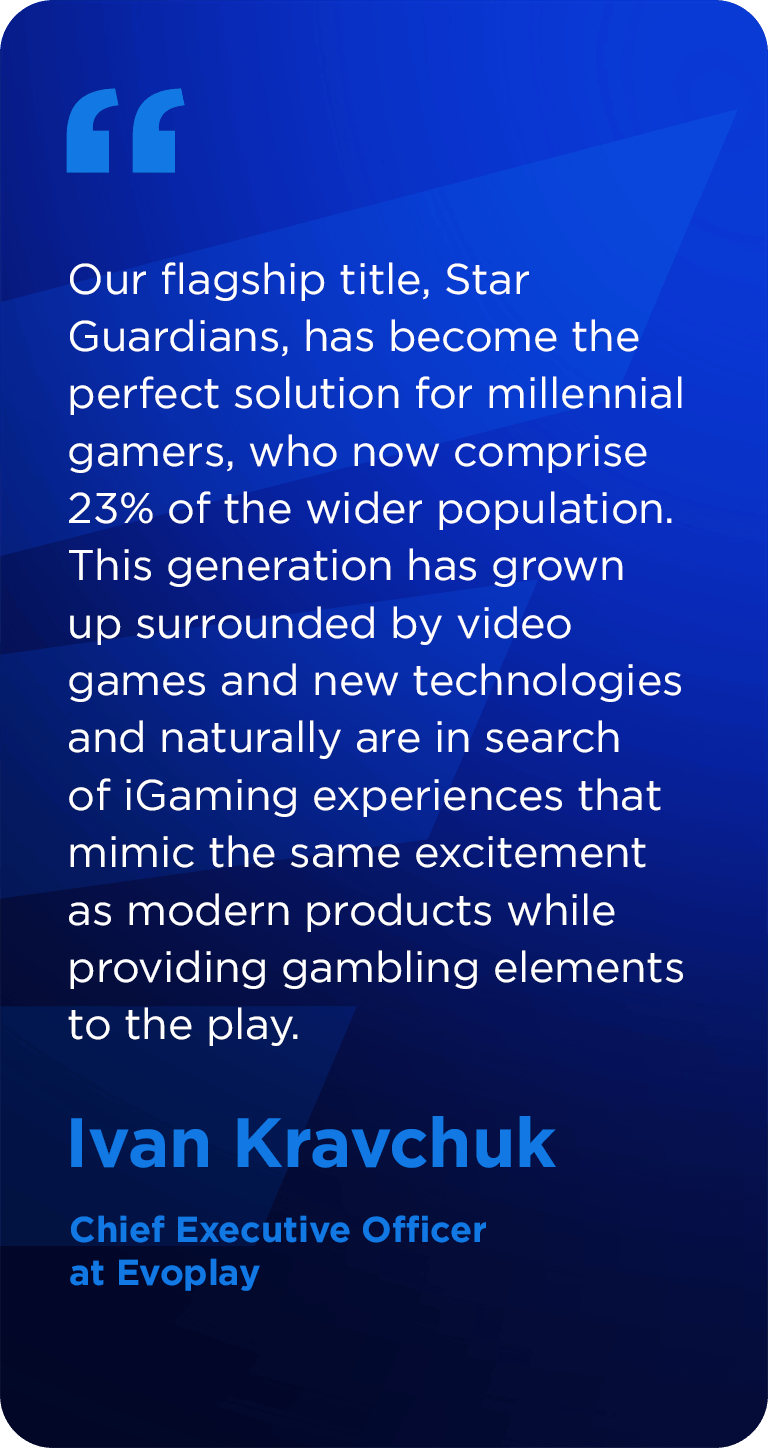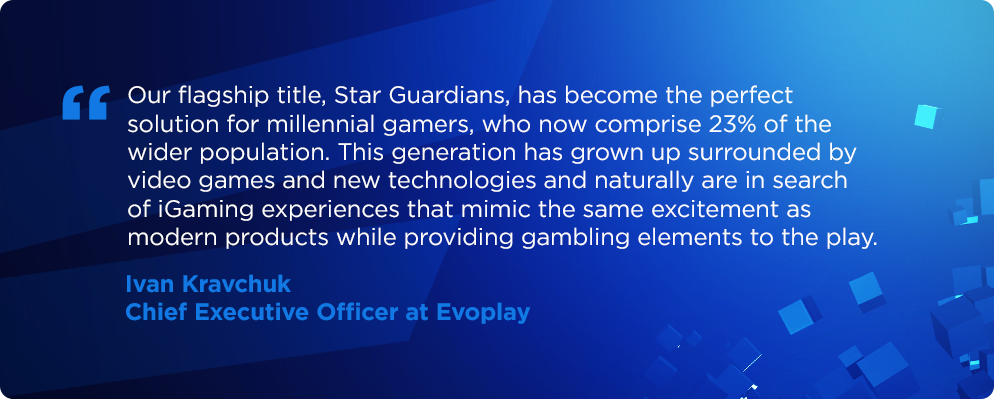 We decided to go bold with this game, and it has not disappointed; Star Guardians is the industry's first game of its kind and is more than your typical video slot game. It is a third-person shooter game with manual controls with incredible gamification features, such as choosing which character you will play with out of 3 different options. This gives casino players that extra bit of excitement and a feeling of control over the game. 
There is a more comprehensive younger generation that is expecting something a little more exciting from online casinos than the typical slot machines. Being surrounded by technology and video games from a young age, they are searching for entertainment wherever they can find it, so 
Make sure that your online casino is one of the first places players will come looking for innovation. 
Gambling-Related Audience – Sports Betting
The same goes for sports bettors and computer-mobile gamers. Providing the types of casino games they will find interesting is key to staying a competitive threat to other casinos. We take that into account at Evoplay and have released multiple football-styled slot games, such as the Football Bet slot game, adding some real-life features such as choosing for which country you want to play and betting on the exact outcome of the score. 
3D Animation
The convenience and simplicity of slot games have made them a favourite among gamblers in many countries. Although online slot games are a product of modern technology. We have taken a simple concept and classic design of the traditional slot  and transferred them to the digital world. Nowadays, a more distinctive and enticing appearance is vital to ensure players´ eyes don't wander off the screen, ultimately terminating their gaming experience.
We also continuously work on our more traditional games, such as the Fruit Super Nova, for which we ensure that graphics and design are up to today´s standard; you don't want your casino goers to be disappointed with the 1980´s Pac-Man style graphics. 
We want to provide you with fascinating games with 3D animation; this encourages players to keep going and adds excitement to the experience. 3D graphics in slot machines have revolutionised how people think about and play video poker and other online gambling games.
Mobile-first Gambling
The days of waiting patiently by a slot machine or eagerly rushing home to gain access to your computer are long gone. In today's competitive market, casinos that don't allow mobile access will quickly go out of business. This technology is already in widespread use on many different sites. Companies in the modern gambling industry are making great strides to provide a better mobile gaming experience for their customers by adopting new technologies. 
More than 75% of our traffic is generated via mobile users.
Choosing an online slots supplier that is able to provide mobile-friendly slots is a must. This is one of the things we focus on at Evoplay. Without an in-house customised engine – Spinential engine, which is our innovative little helper, with which we x10 optimise all of our slot games so that your casino players can get the most out of the gaming experience on the go with no glitches and crashes.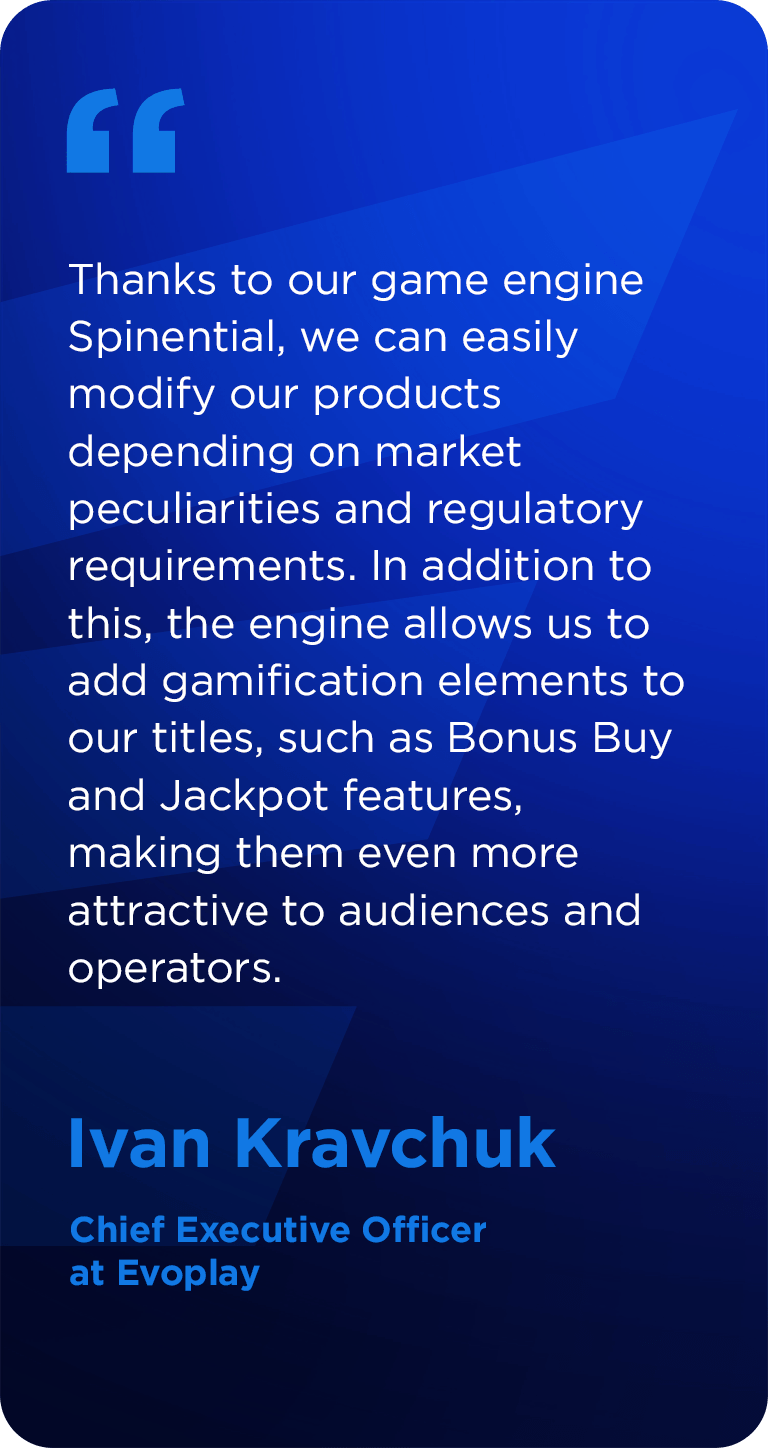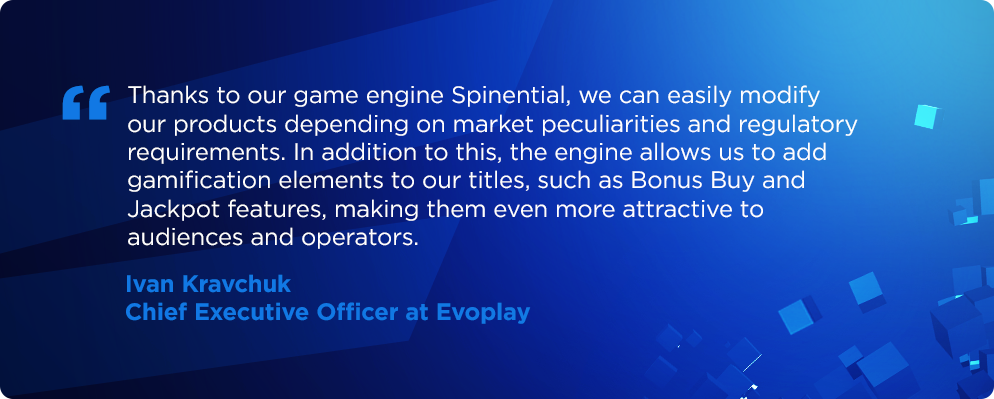 Gamification
In order to draw in more customers, online casinos have upgraded their user interfaces and aesthetics, and they have also incorporated innovative new features into the games themselves. 
New players can choose from a wide variety of welcome incentives, including;

This innovation allows many players to try out online casinos for free, increasing the allure of these sites. 
Having organized the tournament for our partners, we have seen the slot count grow by 60-80% on average while reaching 250% growth at its peak.
Apart from creating unparalleled online casino games, we strive to raise awareness of the need for innovation by providing online casinos with various marketing materials and hosting tournaments. 
Virtual Reality
New, higher-quality experiences are now within reach of gamers thanks to constantly improving technology that is widely accessible worldwide. Once the stuff of science fiction, virtual reality is now being put to heavy use in the realm of online gaming. With VR, it's possible to create an almost identical environment to a traditional gambling establishment, complete with live dealers and other players to chat with. It doesn't alter the larger picture (you still play to win or lose), but it sets the mood and adds to the game's enjoyment. 
We provide a couple of VR online slot games such as Sprinkle and Necromancer which are both playable in VR on your smartphone in browser without any additional downloads and are completely new level of 360-degree game experience.
Let´s reel in players together
It is important to keep evolving with the world and your target market. Providing your casino goers with products that they will find irresistible both in their innovation and entertainment is what will make you stand out from the crowd. 
At Evoplay, this is precisely what we do; we closely monitor the market and ensure that we provide you with the best slot games out there.