blog
Behind Evoplay's Award-Winning Titles Creation
31 March 2023
As a leading game developer, we at Evoplay take pride in creating some of the most innovative and engaging online slots in the industry. We are committed to excellence and passionate about gaming, which is why our award-winning titles are known for their innovative gamification elements, immersive gameplay, and exciting features. We want to share with you the work that goes into creating some of the players' favourite slots.
Quick Run-through of the Creation Process
Step 1: Conceptualisation
The first step in creating an online slot is to come up with a concept. We brainstorm ideas, considering various themes and features that they believe will appeal to players. This process can take anywhere from a few days to a few weeks, depending on the complexity of the game.
Step 2: Design
Once the concept is finalised, the design process begins. This includes creating the game's artwork, graphics, and animations. We use the latest software and tools, such as our in-house Spinential engine, to create high-quality visuals that are both captivating and realistic.
Step 3: Development
After the design is complete, the game's development begins. This includes writing the code that makes the game work, including the game's features, bonuses, and gameplay mechanics. The development team work tirelessly to ensure that each game is optimised for different devices, including desktops, laptops, tablets, and mobile devices.
Step 4: Testing
Before any game is released, it goes through rigorous testing to ensure that it functions correctly and is free of bugs or glitches. The testing process involves multiple rounds of QA testing and gameplay testing to ensure that each game meets the company's high standards and passes all of the necessary certifications. 
Step 5: Release
Once the game has passed testing and is ready to be released, it is launched on various online casino websites. Evoplay's online games are available on a wide range of platforms, including desktop, mobile, and tablet devices. The company also works with various online casinos to offer exclusive promotions, tournaments, quests, and more. 
Breaking Down the Creation Process
Creating award-winning online slots is no easy feat, and at Evoplay, we take this challenge head-on. We believe that the key to success lies in staying ahead of the curve; that's why we conduct extensive market research to determine what the next younger generations and players really want from their online gaming experiences. 
Let's face it; fruit slots just don't cut it anymore. Millennials and Gen Zs crave games with innovative features, cutting-edge graphics, and gamification elements that offer a thrilling and immersive experience.
We constantly push the boundaries and deliver games that exceed players' expectations. Our team of talented designers, developers, and testers work tirelessly to create games that are visually stunning, entertaining, and engaging. We believe that a game should be more than just a way to pass the time; it should be an experience that players remember for years to come.
Our process begins with developing a commercial strategy that involves identifying the regions we want to target and determining the number of games we aim to supply to each region. In addition, we analyse the players in these regions to identify the most popular games and themes among them. We also take into account industry trends and the requests of casino operators.
When creating our games, we prioritise the themes and features that are most likely to appeal to players in our target regions. However, we also consider the capabilities and expertise of our team, as we do everything in-house. For instance, while we may be able to produce many Fruit Super Nova games, we can only create one or two Star Guardians-like games per year. This is because Star Guardians is a 3D game that requires a larger team and more advanced skills to develop, which also means it carries a greater risk. Therefore, we allocate more resources to ensure its success.
Every aspect of creating an online slot game is carefully considered and planned out to ensure that it is the best possible experience for the players. Each gamification feature and mechanic is meticulously crafted to suit the targeted player demographic and provide an enjoyable gaming experience. Our team of experts takes the time to research the market, analyse player preferences, and consider the industry's latest trends and technological advancements. We put in a great deal of effort to ensure that every element of the game is well thought out and implemented flawlessly. Ultimately, our goal is to create online slot games that are not only visually stunning but also engaging and exciting for players to play, providing a seamless gaming experience that players will want to revisit. 
Consider The Greatest Catch as an example, which happens to be one of our most cherished titles. Following its release, we kept a watchful eye on the metrics and player and partner feedback, as well as industry trends. It became apparent that players were showing a growing interest in the Bonus Buy feature. Consequently, we incorporated this feature in our next release, The Greatest Catch Bonus Buy. The results are evident from the image below, indicating an upsurge in key metrics. We follow this process for all our games to create the most sought-after titles in the industry.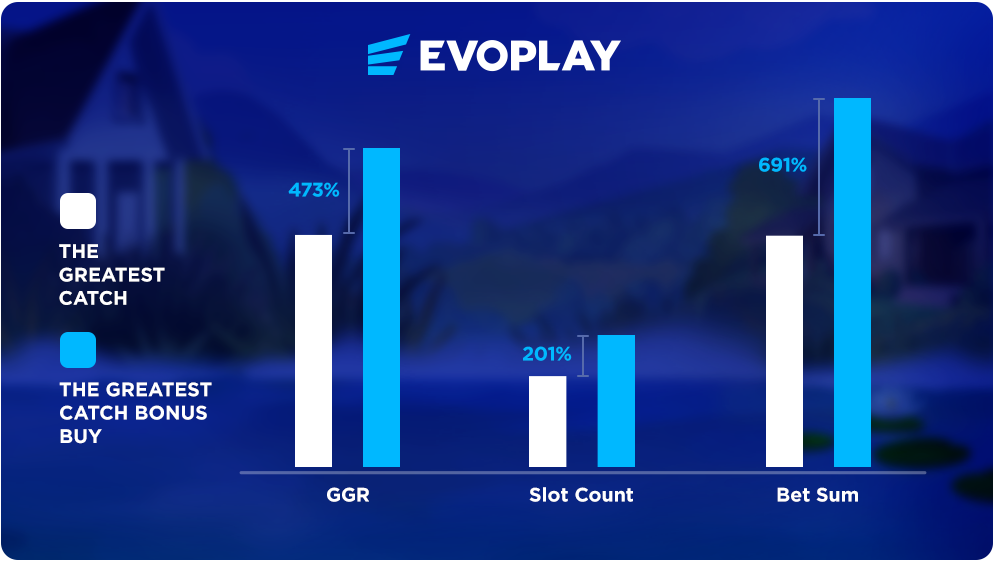 Flagman Games vs. Classic Games Development
The process of creating innovative online casino slots differs from creating traditional classic online slots in several ways. 
First, innovative slots often incorporate advanced graphics, animation, and sound effects to provide a more immersive gaming experience. This requires a higher level of expertise, use of our Spinential engine, and technology compared to classic slots, which often have simple graphics and sound effects. 
Second, innovative slots often have unique themes and gameplay mechanics that require extensive research and development to create. In contrast, classic slots are based on well-established gameplay mechanics that have been used for decades. 
Finally, innovative slots often incorporate advanced features such as bonus buys, progressive jackpots, and multiple pay lines to keep players engaged and entertained. In contrast, classic slots usually have a single pay line and minimal bonus features. 
Overall, the process of creating innovative online casino slots is a more complex and demanding task compared to creating traditional classic online slots. And for that reason, not many online casino game providers risk creating them. 
We understand that the new generation of Millennials is keenly interested in online casino games. As such, we have carefully tailored our flagship game, Star Guardians, to better suit their needs and desires. Unlike traditional fruit slots, Star Guardians is a third-person shooter game that offers a unique and exciting experience to players. To create a game that resonates with our younger target market, we conducted extensive research to develop the characters, storyline, levels, and design elements that would appeal to this audience. By putting in the effort to create a game that caters to the preferences of millennials, Star Guardians has become a huge success.
However, the path to success was by no means easy. Crafting immersive flagship games such as this necessitates a significant investment of time, resources, and skilled professionals. That is precisely why Star Guardians is an exclusive title that cannot be found in every online casino. As a result, players scouring the internet for this game will seek out casinos that have incorporated it, making any online casino that offers it more desirable and popular among players.
Evoplay has always been at the forefront of iGaming innovations, drawing inspiration from various sectors of the entertainment industry.
In keeping with our vision, we created Goblin Run, inspired by Temple Run – a wildly popular phone game. Goblin Run is a cross-channel 3D runner crash game. We approached its creation as a full-fledged screenplay, which later became a game changer among instant games. 
Goblin Run falls into the category of instant games, which are not frequently offered by online slot providers. Nevertheless, as an innovative company, Evoplay couldn't settle for a plain instant game. We aimed to attract the younger demographic, and through research, we discovered that the endless runner mechanic was a compelling feature to incorporate into our game design. As a result, we utilized this mechanic as the foundation of Goblin Run's gameplay.
As an absolute superstar, the game required a specific approach to introduce it to the iGaming audience. So, through influencers, streamers, and media placements, we made its appearance on this show spectacular. It resulted in:
+419% in GGR
+160% in Bet Sum
+282% in Spins
Et Voilà, You Have Yourself Award-Winning Online Slots
Developing groundbreaking flagship games is only part of the challenge for Evoplay. As pioneers of innovation in the igaming industry, we strive to create unique titles that have never been seen before. As a result, it is essential to communicate our games' significance to players and online casinos alike. To achieve this, we must meticulously plan and tailor our marketing campaigns, ensuring that players are fully informed about our games and can enjoy them to the fullest extent.
In summary, at Evoplay, we not only create innovative flagship games, but we also strive to ensure that our players can enjoy them to the fullest extent possible. Our marketing efforts are carefully planned and executed to ensure that players and online casinos understand our games' groundbreaking nature. We are committed to providing an exceptional gaming experience and continuously improving our games and services.

Ready to take your casino performance to the next level? Don't hesitate to give a shot at these casino game promotion tips!
Thank you for your interest!
Our team will get back to you very soon.
While you wait, why not check out our latest News & Events