blog
Evoplay's innovations that WOW players and redefine iGaming
16 June 2023
Innovations play a pivotal role in iGaming, both in product development and marketing strategies. In terms of products, innovation drives the continuous improvement and evolution of games, ensuring that players are engaged, entertained, and provided with unique experiences.
Moreover, innovations in marketing are essential to attract and retain the audience in the highly competitive iGaming market. Creative and cutting-edge marketing approaches help providers and operators differentiate themselves and stand out from the crowd. Innovation reigns supreme in this dynamic realm where products and marketing collide.
Innovation at the heart of Evoplay's iGaming leadership
Evoplay has long been recognised as a pioneering and trailblazing force in the iGaming industry. Our name has become synonymous with groundbreaking ideas and pushing the boundaries of what is possible in online gaming. From revolutionary game concepts to cutting-edge technologies, the Evoplay online casino games consistently challenge the status quo. 
Embracing cutting-edge technologies
Evoplay is renowned for its hi-tech approach to game development. Fueled by an unwavering passion for creating a centralised platform that seamlessly integrates our innovative mechanics, we designed the Spinential game engine. It is a game-changer in every sense, dramatically enhancing game loading speed and taking our content to new heights.
By leveraging cutting-edge technology, this engine has the ability to accelerate loading by up to 10 times, providing players with swift and seamless access to their favourite video slots, instant games, or casino table games, regardless of their device and internet connection. Not only does it enhance the gaming experience, but it also saves valuable digital storage space. By optimising data compression and streamlining resource management, Spinential ensures that games take up less space without compromising quality.
The primary goal of Spinential is to break down barriers and make our exceptional products accessible to players across the globe, as Evoplay is constantly broadening its market coverage. We continuously enhance it with new features and functionality, reflecting our products' exceptional quality.
Paving the way for next-gen entertainment
Next-gen audiences show a real difference in their online gaming consuming preferences, which requires a shift in approach to casino products. Instant games have proved to be a perfect solution for attracting younger generations as they are fast and entertaining, providing immediate gratification and keeping players engaged in a dynamic gaming experience. These games offer a unique online gaming format that combines the fun nature of video games with the betting borrowed from the gambling sector. The result is a casino product that appeals to a wide range of individuals seeking entertainment.
As younger generations were born in the digital age, they are more tech-savvy and picky regarding online entertainment. We infuse new layers into our casino instant games by analysing modern players' preferences and adding features that resonate with them. With 57% of Gen Z-ers and 54% of Millennials interested in multiplayer mode, Evoplay's games with socket connection find a broad response. In our freshest releases for instant casino play, Long Ball and Mary's Mining Mania, we implemented the multiplayer nature with one session for all participants. We enhanced it with a leaderboard and an in-game chat to create an immersive, competitive environment and the opportunity for social interaction. 
Turn gamification on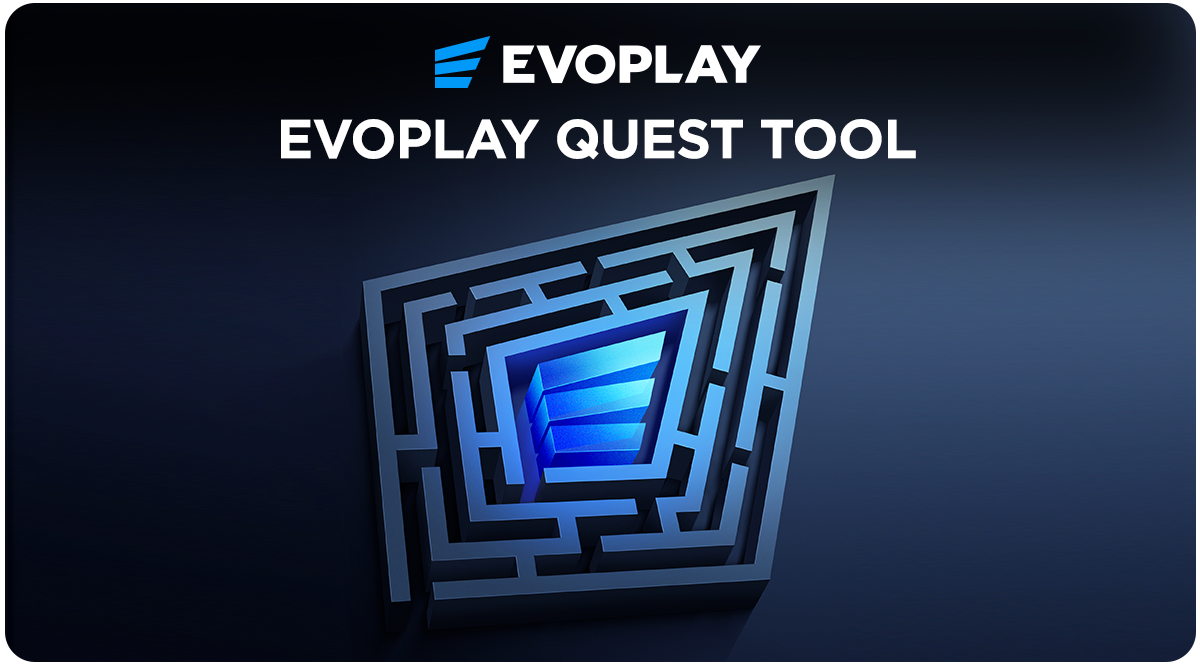 Gamification adds an extra layer of engagement and motivation for players, whether classic slot games or innovation-fuelled instant play games. By incorporating elements such as missions, achievements, and rewards, gamification creates a sense of progression and accomplishment, making the gaming experience more satisfying. 
With this in mind, we have created Evoplay Quest Tool – an ultimate solution for increasing player satisfaction from the gaming experience. It looks like a widget in our games, with Evoplay's mascot, Evo, and a "Click Me" button. Players complete missions in specific video slots, earn rewards and use them in their subsequent gaming sessions. The tool enhances player retention by fostering a deeper connection between a player and a game.
According to our data, Evoplay Quest Tool has already established itself as a booster of key performance indicators. 
Retention rate +30%

Amount of spins +34%

Bet sum +33%

Average amount of sessions +28%

Average session time +26%
The tool doesn't require any technical setting or special action from a casino's side. We provide our partners with all the necessary support and customisation so they can maximally benefit from it.
The WOW factor: Evoplay's innovative products and its features
Evoplay has been navigating the sea of innovation right from its early years of establishment. Back in 2018, we made a remarkable move by introducing Necromancer, an industry-first virtual reality slot game based on state-of-the-art 3D technology. This release marked a significant milestone for us and the gaming industry as a whole. 
Buoyed by our early successes, we have forged ahead, reaching new heights in innovation and exploring uncharted territories within the realm of online entertainment. Taking inspiration from the captivating world of video games, we embarked on a groundbreaking endeavour and brought forth Star Guardians – our flagship game.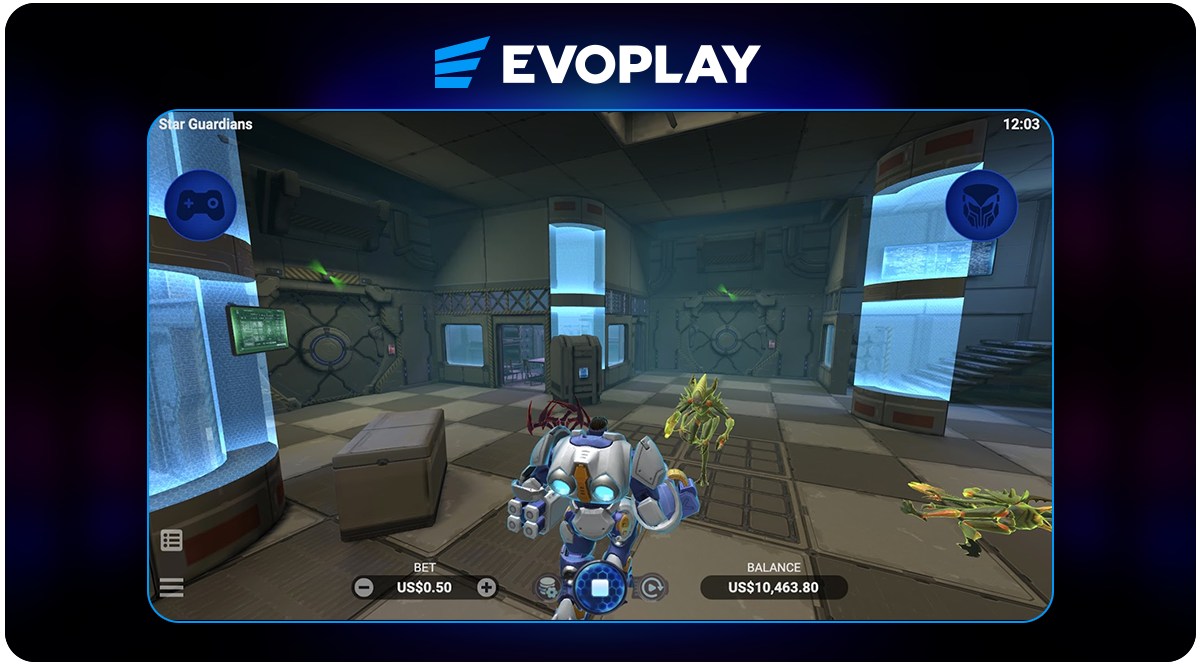 Star Guardians represents an unprecedented leap forward in the industry as the first-ever third-person shooter slot game, granting players complete manual control over their in-game character. With three distinct characters to choose from, players can switch between them. 
However, our commitment to innovation didn't stop at gameplay mechanics alone. We recognised the power of storytelling and decided to enrich Star Guardians with a fully-fledged narrative that dynamically develops as players progress through the video slot. Each hero within the game possesses their own unique story, adding depth and intrigue to the overall gaming experience.
To accompany the release of the game, we went above and beyond, creating an artbook and a comic book that delves further into the captivating world of Star Guardians. This innovative marketing strategy marks a precedent in the casino gaming industry, as no such approach has been undertaken.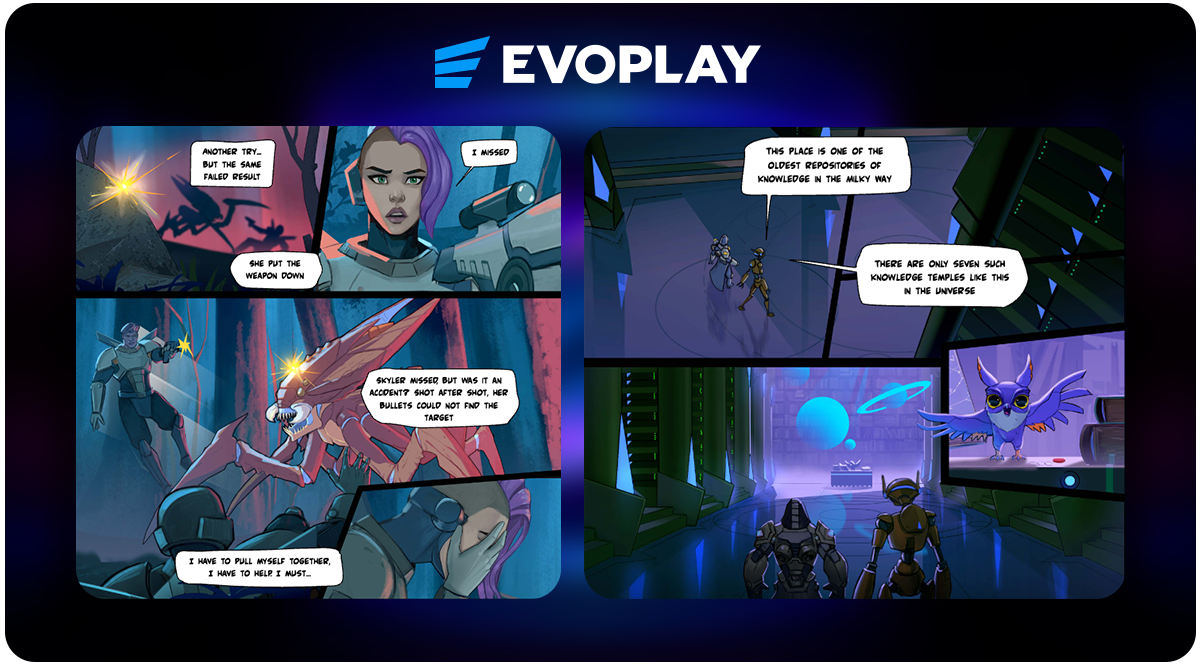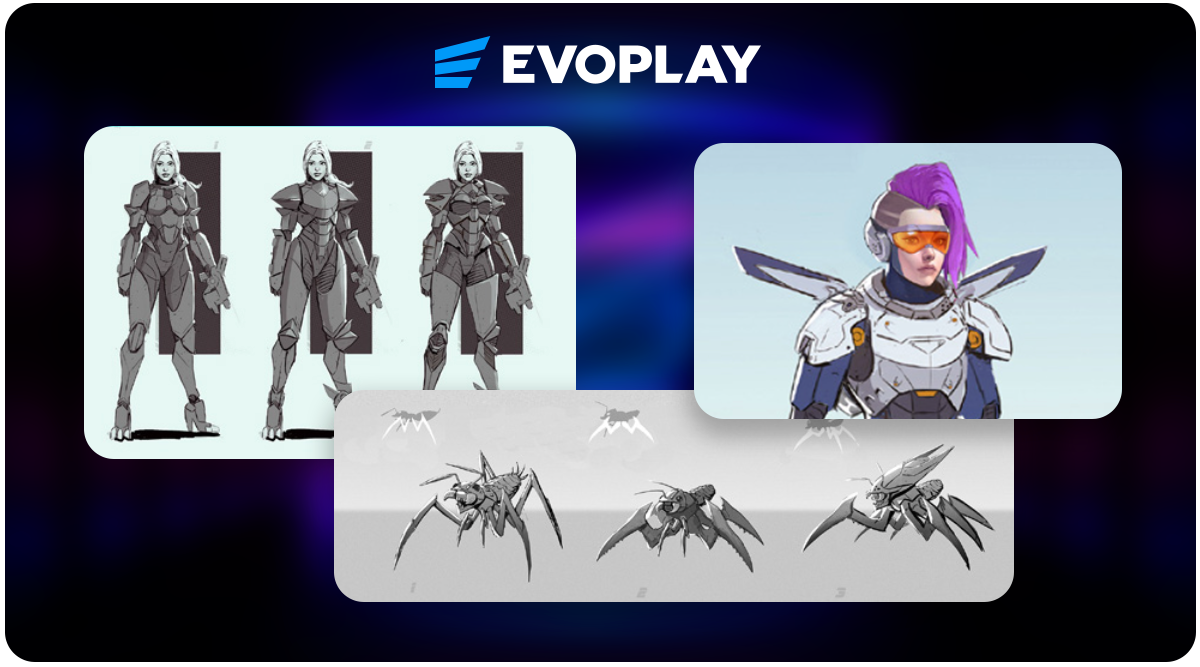 Continuing our innovation journey, we have ventured into cross-selling, aiming to cater to a remarkably diverse audience. Drawing from our expertise, we infused the widely popular online instant game format with a betting feature, resulting in a series of captivating products. One such product is Goblin Run – a third-person crash game boasting stunning 3D graphics, an array of customisable skins and game settings, and a challenging five-level gameplay experience.
Recognising the opportunity to expand our reach and cater to sports bettors, we introduced the Football Pack – a collection of three Evoplay betting games. One of them, Football Bet, represents a true innovation as we successfully transferred the sportsbook interface into a casino game. This exclusive mechanic mimics the sports betting experience, effectively bridging the gap for bettors when live sports matches are unavailable and redirecting the traffic to our partners' platforms.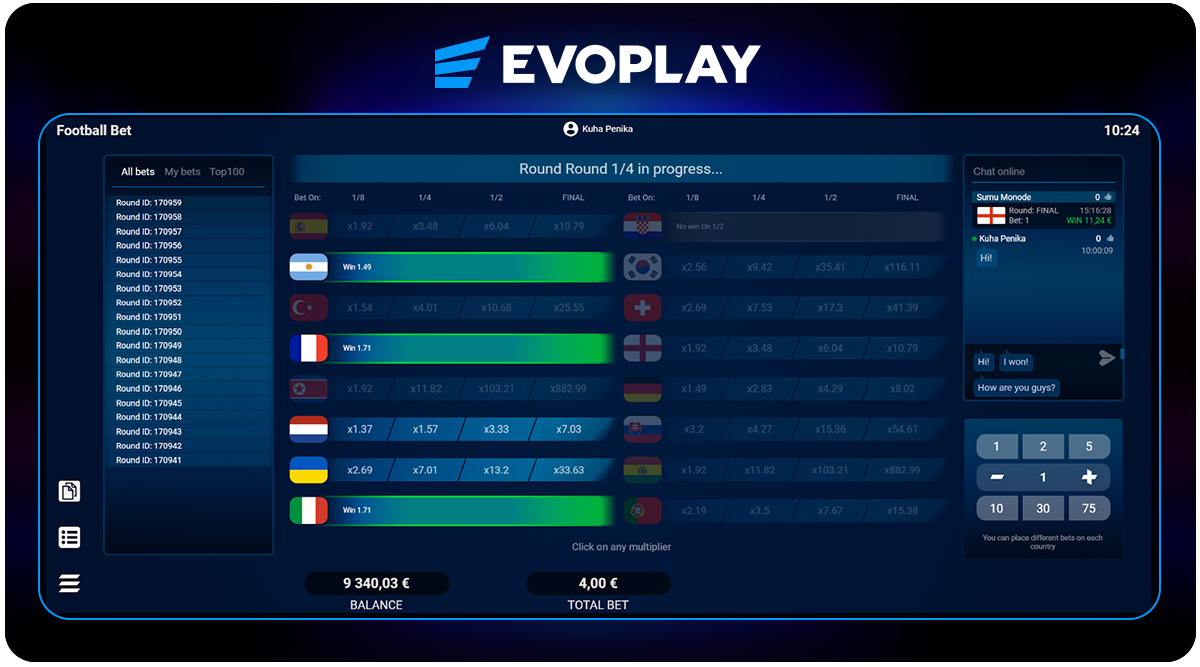 We never stop on a product, we always go further with its marketing
Evoplay is known not only for its high-quality and unique products but also for its powerful marketing strategies. Our ability to effectively promote our offerings has garnered recognition from the industry, with notable examples including the Star Guardians marketing campaign and rebranding campaign.
One of our most recent and impactful promotions was the Football Pack campaign, which encapsulated three football-themed instant gaming products in one comprehensive solution, effectively achieving multiple business goals. We created a Football Pack-themed stand at the prestigious SBC Summit Barcelona 2022 as part of this campaign. We introduced the mini-betting platform at the event, a game featuring special trophies and exclusive Evoplay merch. The engagement was remarkable, with event visitors scoring over 300 goals at our stand, generating excitement and buzz around our football offerings.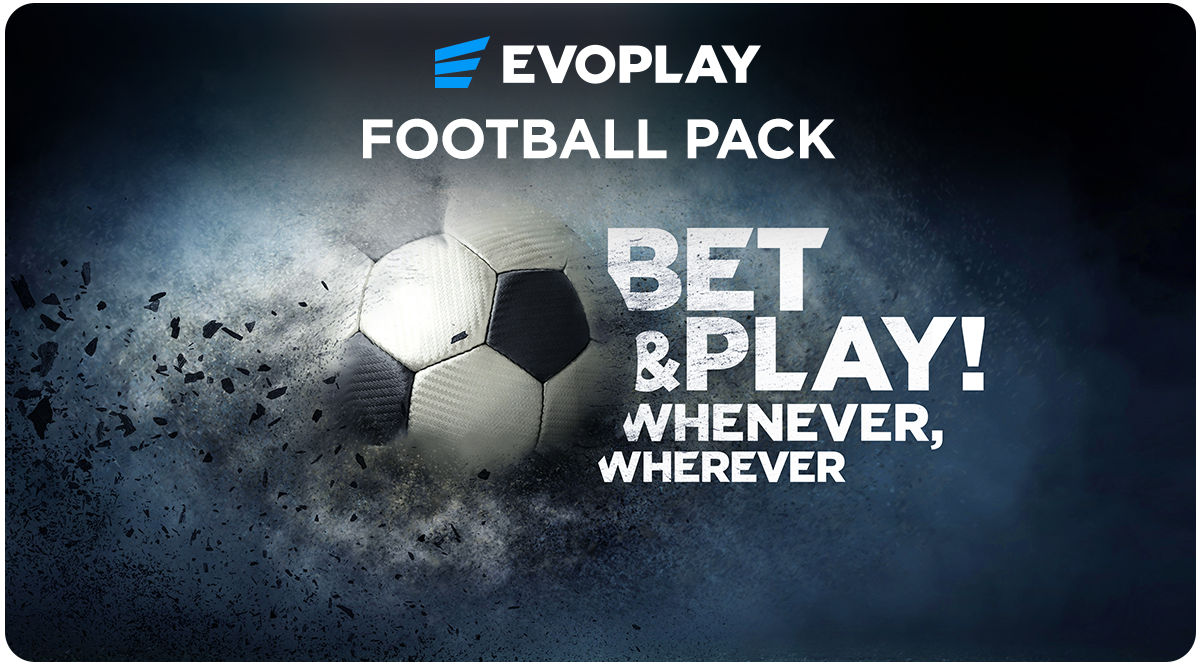 In addition to our physical presence at industry events, we harnessed the power of influencer marketing to its fullest potential. Collaborating with popular streamers and influencers, we successfully conveyed the uniqueness of our football content, highlighting its features and seamless betting mechanics. This strategic approach allowed us to reach younger generations, as recent data indicate that 40% of Gen Z representatives and 37% of Millennials actively seek to engage with the games they play within various online communities and channels.
Sweeping awards for innovation excellence
Evoplay has garnered a distinguished collection of awards that underscore our excellence in innovation. These accolades reflect the industry's recognition of our commitment to pushing boundaries and reshaping the iGaming landscape. By consistently introducing groundbreaking ideas and pioneering concepts, we have earned accolades celebrating our ability to create unique gaming experiences.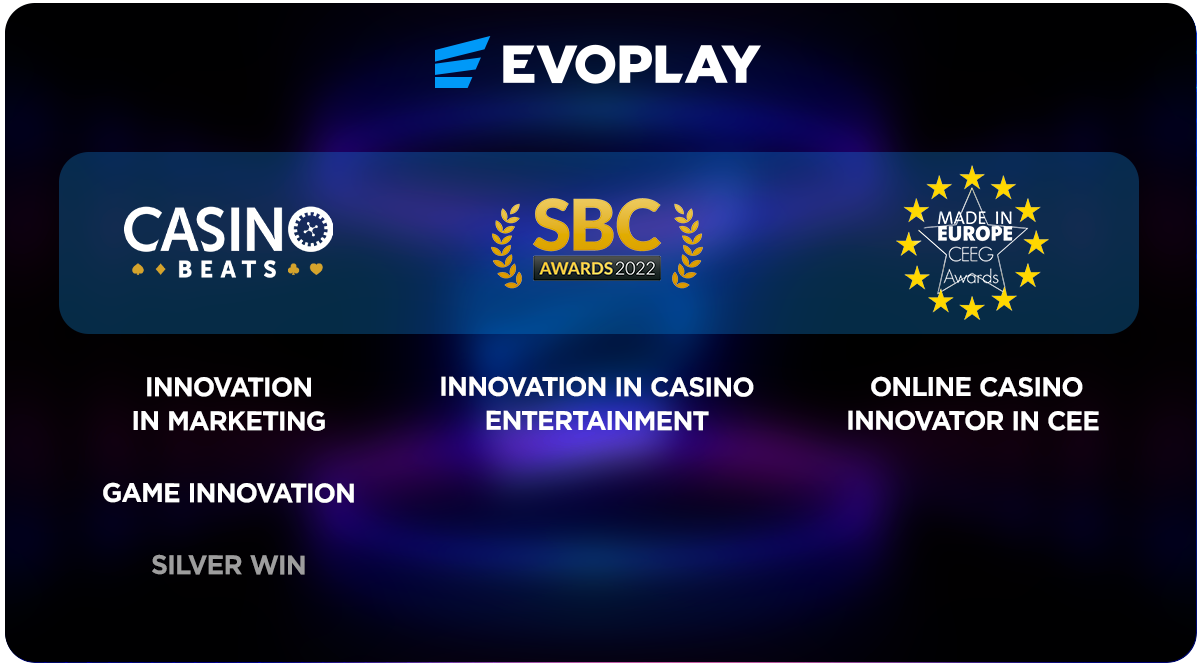 Psst… Evoplay is cooking up some seriously game-changing innovations!
We always keep going when it comes to innovation. We've got a whole lineup of exciting new video slots, instant casino games, and online table games in the works, so stay tuned! 
We're currently working on our next big thing, our brand-new flagship game. We're all hyped up about it and can't wait to unveil this epic game to the world. So, keep your eyes peeled because Evoplay is about to drop something truly game-changing!