blog
Experience the Future of Gaming with Evoplay's Newest and Upcoming Releases!
9 March 2023
Hot off the Press: Our Latest and Greatest Online Slots Drops!
We are thrilled to present our latest and greatest game drops that are sure to take the online gaming world by storm! Our team has been hard at work developing top-of-the-line slots that feature immersive graphics, captivating themes, and exciting gameplay mechanics. These games are the talk of the town, and players cannot get enough of them. We believe that every player deserves a gaming experience that transcends the mundane, and that's exactly what we aim to deliver with our new releases; 
Book of the Priestess 
Release date: 7th February 
Experience the magic of Aztec legends with our latest addition – Book of the Priestess. Our newest game offers you the opportunity to provide your players with a one-of-a-kind adventure through the mystical world of Aztec lore. Utilising the power of the ancient book, this slot offers a unique feature that transforms basic symbols into exceptional ones, leading to an increased potential for winning combinations.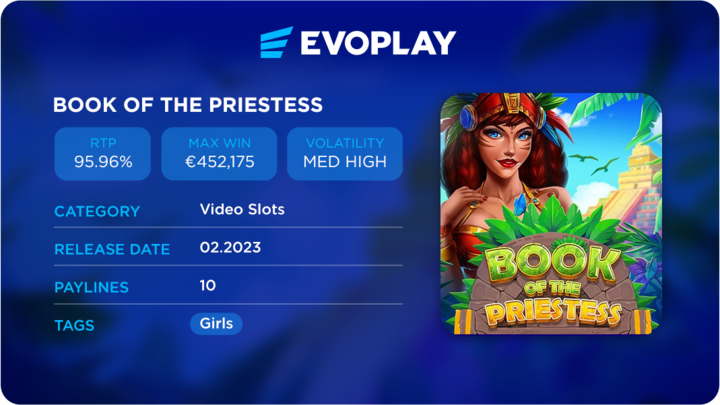 Hot Rio Nights Bonus Buy
Release date: 9th February 
Our partners can now offer their players the ultimate Rio de Janeiro carnival experience with Hot Rio Nights Bonus Buy. This exciting slot game boasts a festive atmosphere complete with glittering costumes, samba music, and exotic dancers, immersing players in the authentic spirit of Brazilian culture. With the Bonus Buy feature, players can enjoy an increased number of spins and increase their chances of hitting big wins.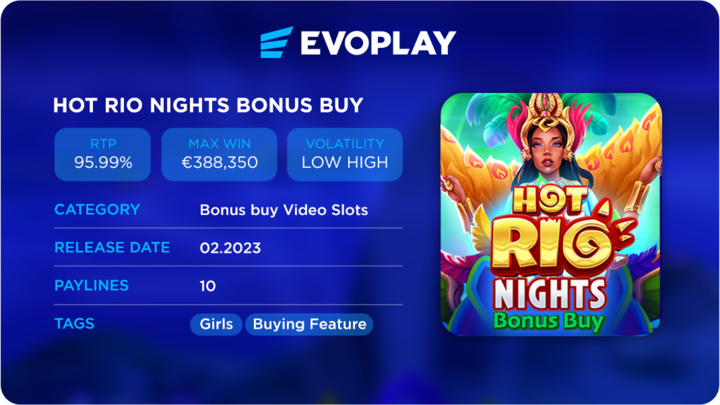 Candy Dreams: Bingo
Release date: 14th February 
Offer your players a chance to satisfy their sweet tooth while playing our newest instant game – Candy Dreams: Bingo. With cupcakes replacing traditional bingo numbers, players can indulge in a sugar rush while trying to hit the sweet spot with 75 available numbers and 40 balls dropping. The game offers a unique twist where players can win by scooping up cupcakes horizontally, vertically, and diagonally, with the calorie multiplier increasing with each successful combo.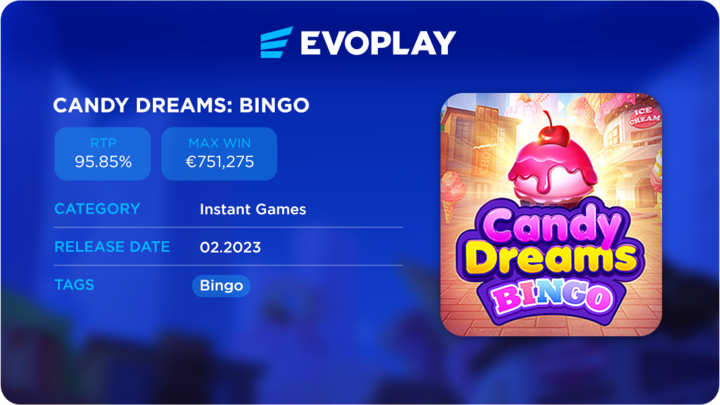 Treasure-snipes
Release date: 23rd February 
Allow your players the chance to embark on an epic pirate adventure with our latest online slot title – Treasure-snipes. Featuring Blackbeard and his crew, this thrilling game offers a variety of symbols and exciting bonus features that are sure to keep players entertained for hours. With the Grand Reel and boosting multipliers, players can navigate their way to huge jackpots and other marine bounties while becoming successful seadogs. So get ready to walk the plank and bring the excitement of a pirate's life to your online casino with Treasure-snipes!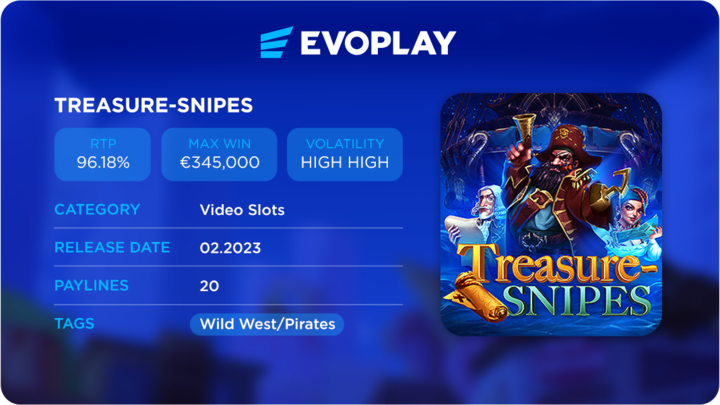 Redrose Sanctuary Bonus Buy
Release date: 28th February 
Introducing Redrose Sanctuary Bonus Buy – a beautiful bunch of roses from Lady Rosena's secret garden that you can now offer your players. This mysterious mansion is full of enigmatic power, and with the Bonus Buy feature, players can activate Free Spins and turn roses into winning combinations at any time. No longer do players need to rely on the magic of the garden hostess – they have the power to unlock this thrilling feature with just a simple purchase.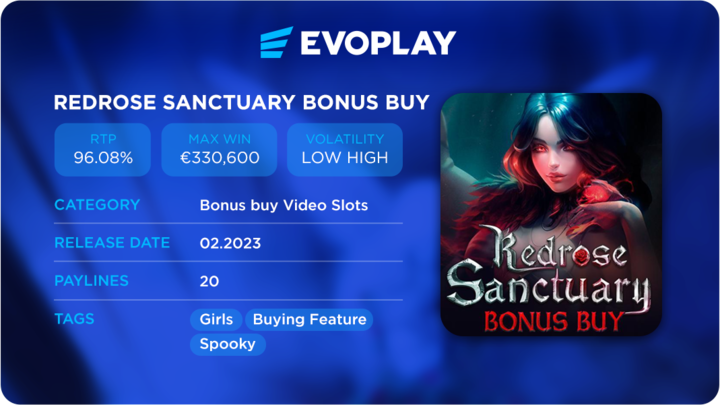 Funny Hunting 
Release date: 2nd March 
Partners, step right up and add a touch of nostalgia to your platform with Funny Hunting – a modern take on the classic funfair game – the duck gallery! This lighthearted and entertaining instant game challenges players to hit the haughty King of Ducks and his subjects with their keen vision and powerful grip. And the rewards for a successful shot are simply ducking awesome! But don't worry, our targets are not alive – it's all in good fun. So let your players test their hunting skills and bring back the carefree memories of their childhood with Funny Hunting on your online casino.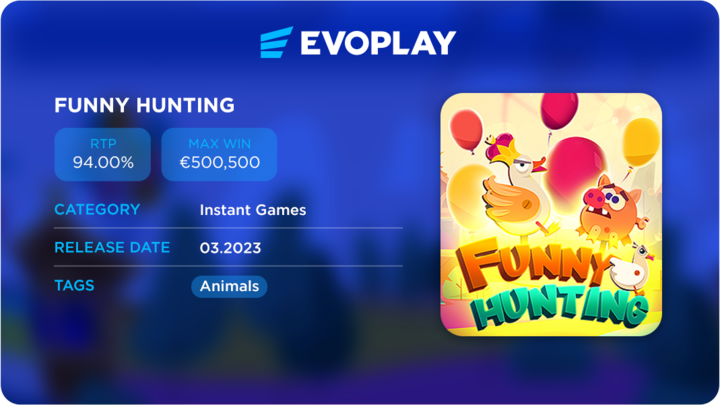 Upcoming Releases on the Horizon: Get Ready for What's Next!
Not only have we unleashed a slew of fresh releases, but we are also debuting a handful of electrifying games that are sure to captivate players left and right! 
Treasure-snipes Bonus Buy
Release date: 7th March 
Ahoy there, partners! Blackbeard and his crew are back for another swashbuckling adventure on the high seas in Treasure-snipes Bonus Buy. Join them on this daring buccaneer escapade and fill your treasure chests with gleaming doubloons. With even more Free Spins and game rounds, players can activate 8 Free Spins or a Bonus Game at any moment, feeling like a true old salt and embracing the adventure-abounding waters. So hoist the Jolly Roger and set sail with Treasure-snipes Bonus Buy on your online casino.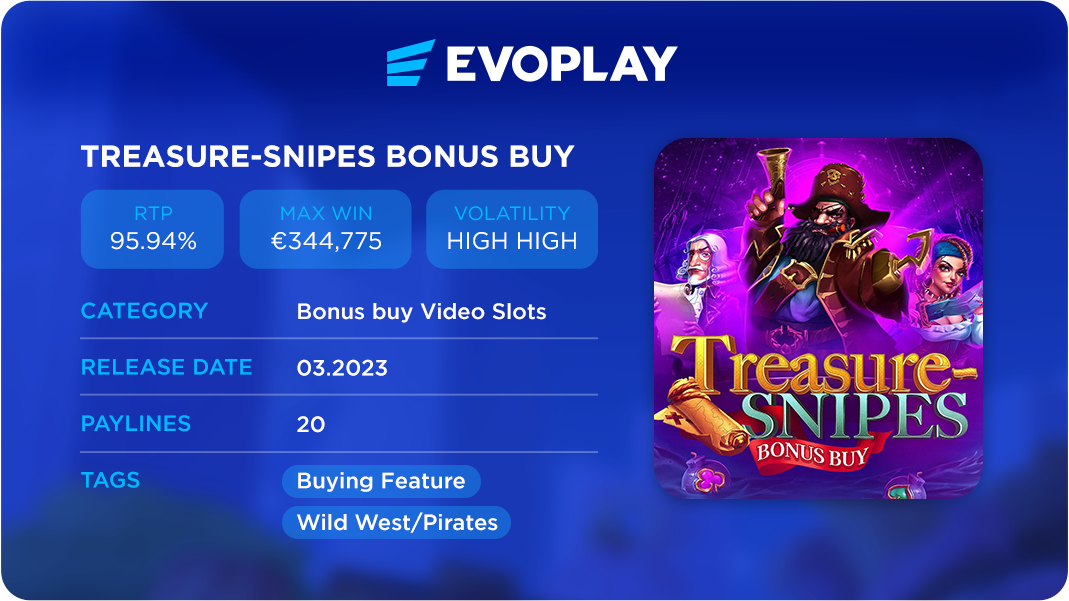 Perfect Fishing
Release date: 14th March 
Introducing our latest instant game – Perfect Fishing, which promises to be a catch of a lifetime for your players. The game takes them on a serene fishing expedition in the foothills of mountains, where they can cast their rods to catch a fatty Golden Fish.
The game's expert fisherman knows how to maximize the catch, and players can multiply their bets up to x1024 by using a small fish as bait to catch the elusive Golden Fish. The progress bar indicates the fisherman's skill in reeling in the catch, as players' winnings grow.
With its picturesque location and engaging gameplay, Perfect Fishing is sure to be a hit online slot with your players.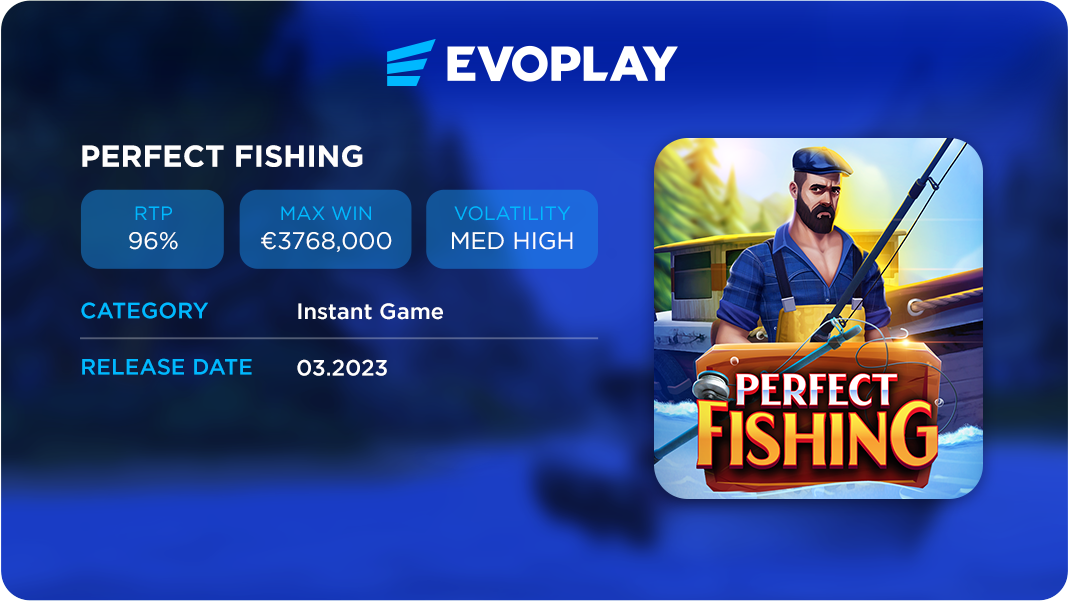 Irish Weekend
Release date: 16th March 
We are excited to introduce our newest online slot, Irish Weekend – a magical adventure with Mr. Ginger, the jovial leprechaun. Players can join him as he uses his wizardry to catch a lucky fish in a fairyland filled with emerald meadows and crystal-clear ponds. This game features a unique mechanic that does not rely on traditional paylines, adding to its enchanted, otherworldly vibe. Watch as the mythical beast comes to life, with the cursor – the Catch Area – moving across the playing field to determine winning symbols.
Irish Weekend offers a fresh and engaging experience for players, with a variety of features and bonuses to keep them entertained.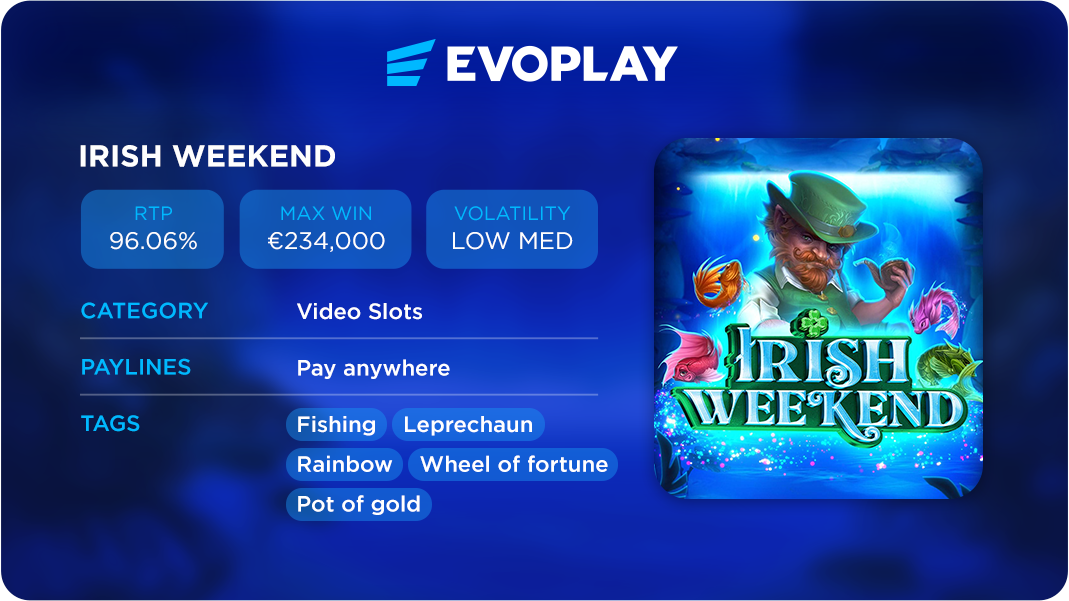 Book of the Priestess Bonus Buy
Release date: 23rd March 
We are thrilled to introduce Book of the Priestess Bonus Buy, the exciting sequel to Evoplay's legendary Aztec civilization story. With the help of priestesses, players can now purchase Free Spins and unlock the hidden treasure concealed in the ancient temple.
Utilize the empire's power to decode hieroglyphs and activate the Bonus Buy feature to gain access to a limitless store of wealth. This game features a random Expanding symbol and an Ancient Mask feature, adding to the excitement and entertainment.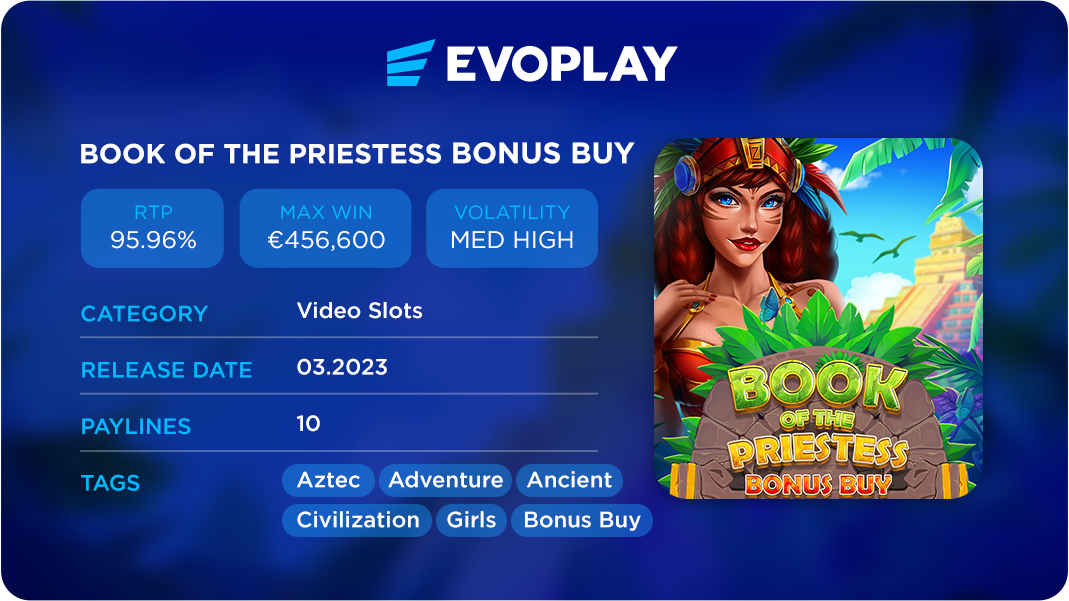 Wonder Farm
Release date: 30th March 
Introducing our latest game – Wonder Farm, a whimsical adventure set on a quaint farm in Kansas. Join Dorothy and her beloved livestock – a cow, pig, rooster, and goat – as they harness their magical powers to create delicious pies with mysterious fillings that can even tame hurricanes.
This unique game offers a fresh and engaging experience for players, with its exciting hurricane feature and enchanting graphics. As Dorothy gathers ingredients from around the farm and combines them with powerful spells, hurricanes whirl players into exciting wins.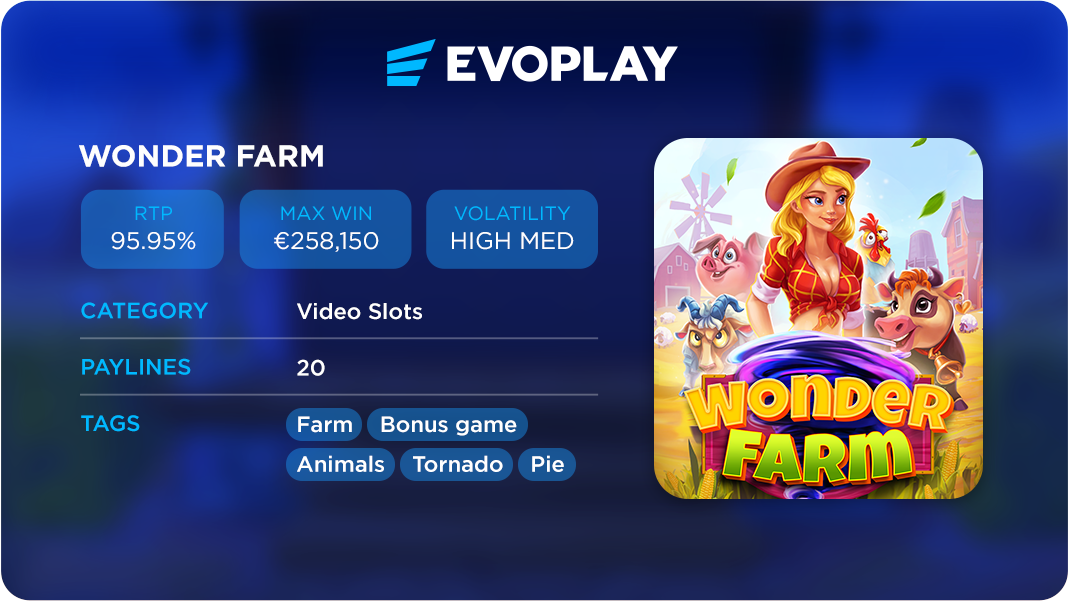 Get Ready to Rumble: The Epic Showdown of Our Upcoming Tournament
We are excited to announce our upcoming Spring Reel Bloom Tournament, which provides a unique opportunity for our players to engage with some of the most exciting Evoplay's online casino slots available. 
By participating in our tournament, your audience will be able to compete with other players to see who can reel in the biggest wins and secure their place on the leaderboard. This event promises to be an immersive and exciting experience for players and we are confident that it will drive engagement and encourage continued play.
Our Spring Reel Bloom Tournament is just one of the many ways we strive to provide our partners and players with the best possible gaming experience. We are committed to offering a range of unique events and promotions that not only drive engagement but also help to build and maintain strong relationships with our partners.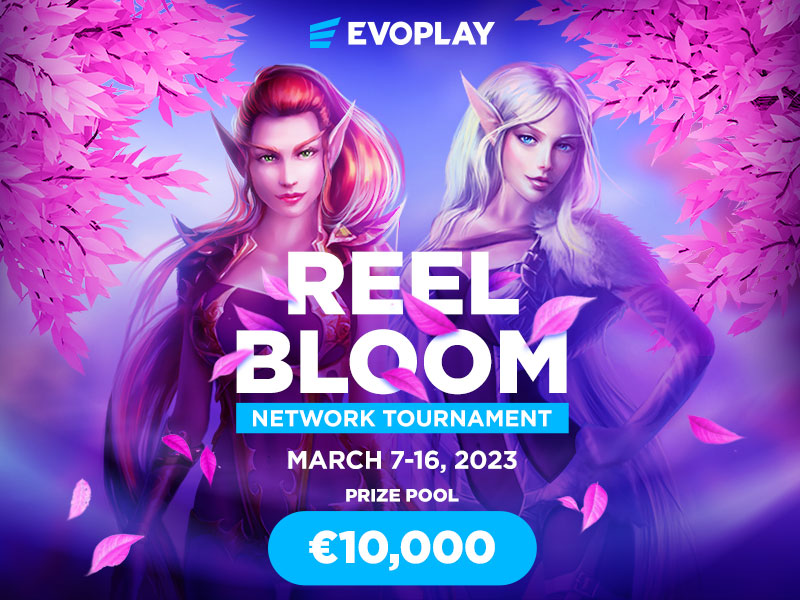 Partnering with Evoplay gives our partners access to a wide range of high-quality and innovative online igames that are sure to attract and retain players. Our games are designed with both the player and the operator in mind, ensuring that they are not only fun and engaging but also profitable.
In addition to our game offerings, we also offer a range of marketing and promotional tools to help our partners maximise the potential of our games! 
Drop us a line at business@evoplay.games and we'll get you set up with our future mega hits.
And if you're already one of our partners, we want to make sure you're getting the most out of our amazing games. So be sure to plan your activities with your dedicated  Key Account Manager. Let's keep the good times rolling!