blog
Penalty Shoot-out: the DNA of the winning goal
20 April 2023
Penalty Shoot-out – our football-themed, World Cup-inspired title, conveying the atmosphere of a top-league match, became a statement game. It showed a brilliant play in all key performance areas making the breakthrough goal in the era of casino betting. 
It's time to dive into this winning game highlights and take a closer look at its core elements that have made it a total success among our partners and their audience.
iGaming hat-trick: football setting, betting feature, instant format
Penalty Shoot-out is an instant game encompassing 3 pillars key to make it a hit for a broad audience – from casino players and video gamers to football fans and sports bettors. The authentic vibes of a football pitch spiced up by a betting feature familiar to sportsbooks and an instant result turned the game into a go-to sporting content.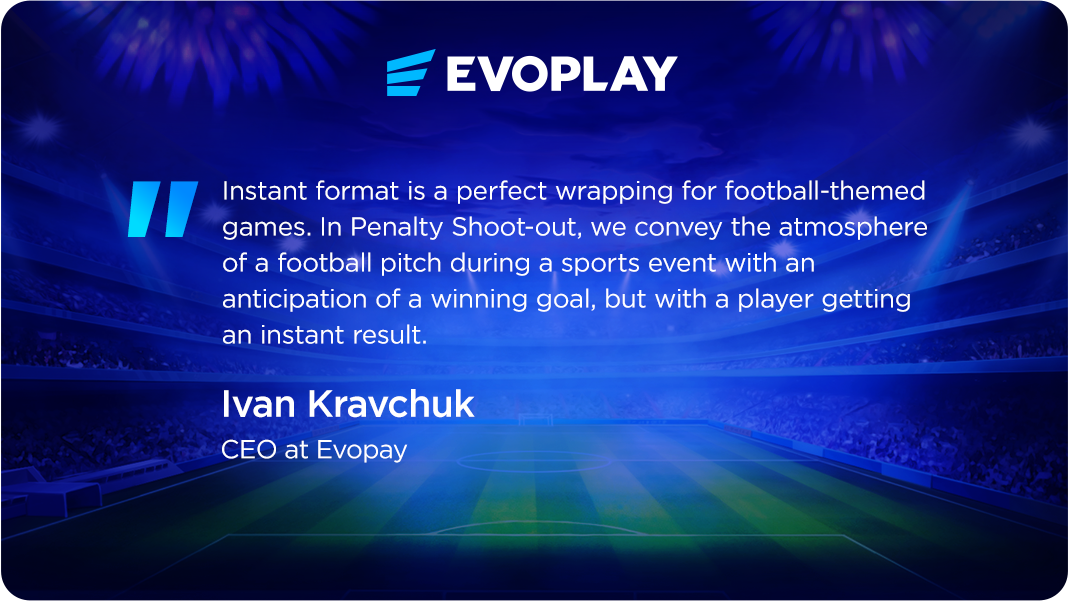 Players run Penalty Shoot-out and find themselves in a football stadium surrounded by cheering fans and limelights. They are responsible for making a deciding goal and not letting their national team down. Players select a country to play for before the round starts.
A skilful goalkeeper is set to stop the ball, with the outcome based on RNG. A player can choose an area to point the ball. With every successfully shot goal, the multiplier increases, giving a goalscorer this sweet taste of victory and fans' recognition. The atmosphere, similar to a real-life event, makes the Penalty Shoot-out game incredibly immersive. They get the opportunity to wager on the sporting event and step into an experienced striker's shoes, which makes them feel more engaged in the gameplay.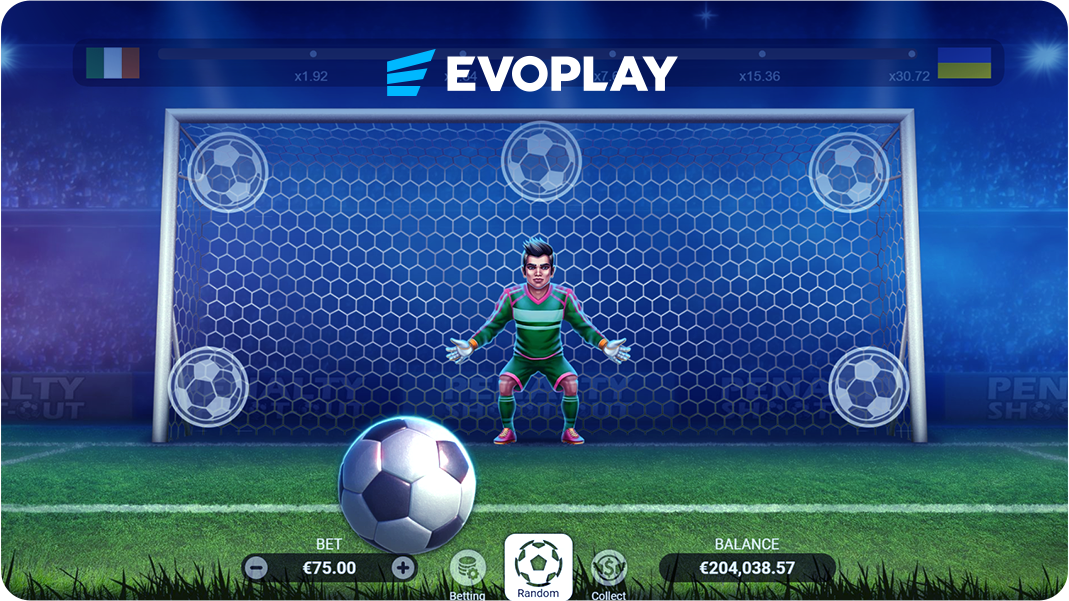 The point-and-shoot mechanic, a betting feature, and an instant game framework provide players with a betting experience anytime and anywhere, without being limited by a sporting events calendar. 
The game's high-quality graphics, immersive art and sounding fueling the anticipation for a winning goal make it an enthralling iGaming pitch!
One ball to hit multiple business goals
Penalty Shoot-out by Evoplay became a perfect game to accompany the Qatar World Cup in the iGaming space. However, its popularity gained momentum far before the event, proving that sports fans crave the excitement of football betting during the absence of matches.
Inspired by the World Cup, the Penalty Shoot-out game was one of the titles that scored back of the net in terms of metrics growth. We have channelled a massive amount of traffic generated by sports bettors directly to sportsbooks and casinos, which is reflected in the figures.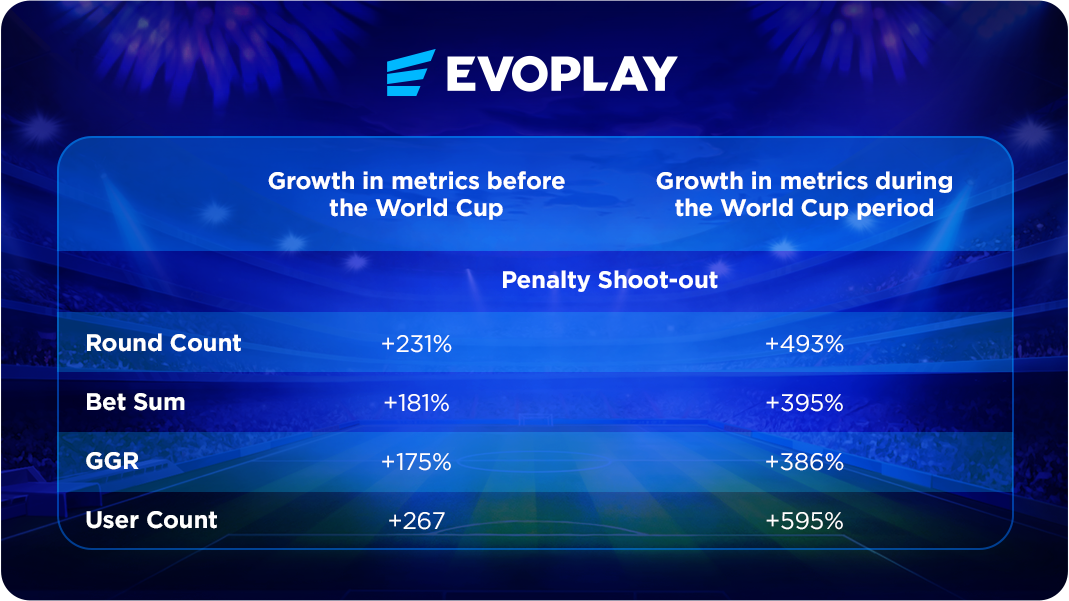 Thanks to its cross-sell nature, it was an hour of triumph for Penalty Shoot-out. Casinos used it as a game to expand their audience with sports bettors, while sportsbooks got a revenue-boosting alternative to fulfil the gap between matches. 
With 5 billion football fans around the globe and 7 out of 10 playing football-themed titles, the soccer Penalty Shoot-out game is a goalscoring addition to the gaming portfolio. It redirects all the attention and hype sports matches create to a casino or sportsbook, generating more players' activity. 
The gaming title showed heightened interest from LatAm players, which is no surprise as they are football fans in their nature. It crossed the line in our general Bet Sum growth in LatAm – growth by 560% in 2022 compared to 2021.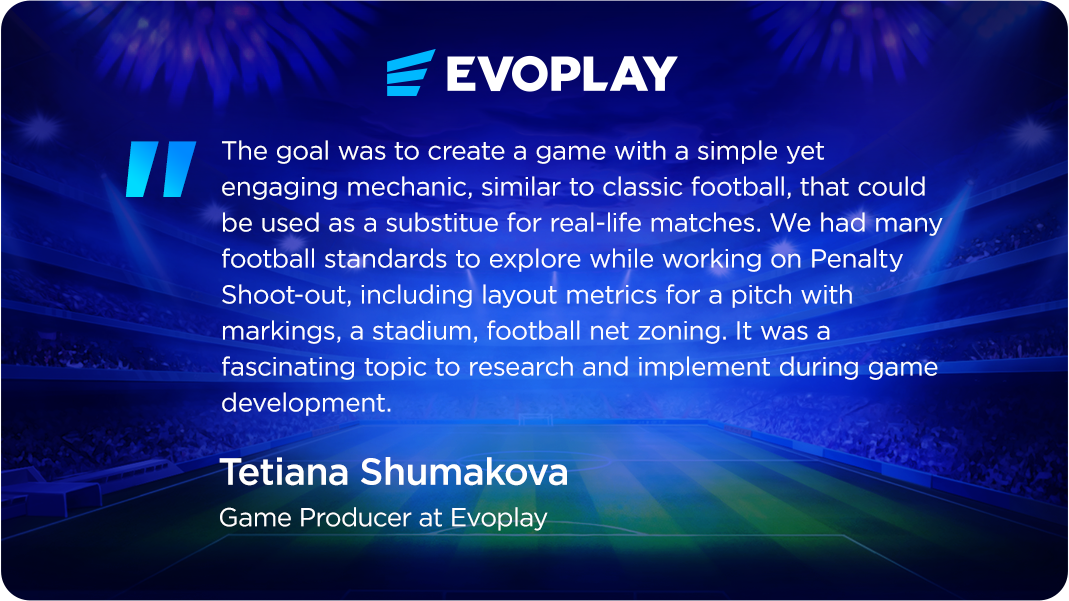 After the World Cup, the game continues holding the popularity line. This snowball effect is connected with its winning formula – a betting feature plus an exhilarating atmosphere of a football pitch available anytime. The result – stadiums of engaged game fans and KPIs growing. 
Penalty Shoot-out – the golden boot of Evoplay's football portfolio
The sports fanbase is a heated-up audience ready to consume the related content and craving it. They play Penalty Shoot-out, casinos and sportsbooks watch their engagement and retention rates soaring high. The title has cornered the market and made players keep their eyes on the ball – its enthralling gameplay.
Stop watching from the sidelines! Get Evoplay's football-themed titles to your offer and start scoring the most impressive business goals within a broad audience! Drop us a line at business@evoplay.games to add a high-performing player to your games team.