blog
Evoplay's top 5 slots and their winning features
19 May 2023
Unleashing a whirlwind of excitement and fortune, Evoplay's sensational video slot games have taken the iGaming world by storm. From enchanting classics to high-octane non-conventional titles pushing the boundaries of the reels and spins framework, they have redefined the meaning of entertainment and captivated players worldwide.
Evoplay's exceptional slot games have emerged as the golden ticket for casinos seeking to unlock unprecedented success. In this article, we present the crème de la crème of our slots, meticulously crafted to propel your casino to the forefront of the industry. Prepare to dive into the captivating realm of our online slots and features that attract a legion of loyal players and secure our partners' position as a frontrunner in the fiercely competitive iGaming landscape.
The X-factor for revenue boost: unveiling the winning elements of Evoplay's slots
According to GrandViewResearch, the size of the global online gambling market reached a value of $63.53 billion in 2022, with video slots garnering a substantial and dedicated fan base, thereby claiming a significant portion of the market share. The fiercely competitive iGaming industry demands a distinctive approach to game development to create offerings that truly distinguish themselves from the multitude of available options.
Evoplay is a pioneering force in the gaming industry, constantly breaking new ground of innovation and creating games that are truly outstanding and exceptional. It consistently showcases its ability to think outside the box, revolutionising the way games are experienced and cementing its reputation as a trailblazer in the industry. It makes the Evoplay online casino games more visible to a broader audience of players and their unanimous go-to entertainment products. 
Find out the key elements of the Evoplay iGaming products that captivate players from the moment they start playing and make them bestsellers.
Embrace the unmatched features of Evoplay's slots
Evoplay slot games are renowned for their captivating features that keep players engrossed. Those who play video slots will definitely appreciate the features, enhancing the level of fun. Here are some of the most entertainment-generating ones:
Jackpots;

Bonus Buy Feature;

Free Spins;

Expanding Symbols;

Accumulative Scatter Symbols;

Bonus Symbols;

Sticky Wilds;

Expanding Wilds;

Nudging Wilds;

Respin Feature;

Symbol Removal Feature;

Wheel of Fortune;

Expanding Reels;

Group Wins;

Catch Area.
There are numerous features available for players to explore in the Evoplay slot demo or real mode, and the ones mentioned above are just a small portion of what's on offer.
Breaking language barriers: Evoplay's games captivate worldwide audiences with localisation
The Evoplay slot games are not only immersive and thrilling but also available in 18 languages. And the best part? This number keeps growing as we continuously expand into new markets. We are committed to providing an unforgettable gaming experience for players all around the globe, breaking down language barriers.
At Evoplay, we understand that meeting our partners' needs is crucial. That's why we offer the flexibility to translate our games into new languages based on their requests. Whether it's entering a specific market or catering to a diverse player base, we've got you covered. With our dedicated team of experts, we ensure that our games are localised to perfection, capturing the essence of every language and culture.
Sensory delight: high-quality sound and graphics that redefine iGaming
In Evoplay's video slots, sound, graphics, and artwork come together for a mega-immersive gaming experience. 
Graphics play a pivotal role in capturing players' attention and engaging them on a deeper level. Evoplay's state-of-the-art graphics technology pushes the boundaries of visual excellence, delivering breathtaking visuals that transport players into a world of wonder. From meticulously crafted character designs to stunning environments and realistic effects, our graphics create an enveloping visual feast. 
Our commitment to high-quality sound ensures that every game is accompanied by an immersive audio landscape that captivates players. With crystal-clear audio effects and dynamic soundscapes, the Evoplay slots elevate the player experience to new heights, leaving a lasting impact on your target audience. The commitment to sound quality ensures that your players won't miss a beat, allowing them to dive into the gaming narrative.
Unveiling Evoplay's all-stars: the top-performing slots that set the bar high
Get ready to embark on a gaming journey like no other as we unveil the dazzling gems that reign supreme in the realm of online video slots. Brace yourself for a rollercoaster of spins, wins, and unforgettable experiences as we dive into our most dominant creations.
"A trendy theme, captivating features, visually stunning artwork, and the strength of the iGaming developer's brand are the key ingredients that make a slot truly lucrative."
Game Producer, Evoplay
This carefully curated list of the Evoplay casino slots has been selected based on the average monthly growth of key metrics, including GGR, Bet Sum, Round Count, and User Count. These metrics serve as a testament to the exceptional quality and popularity of our slots among avid iGamers.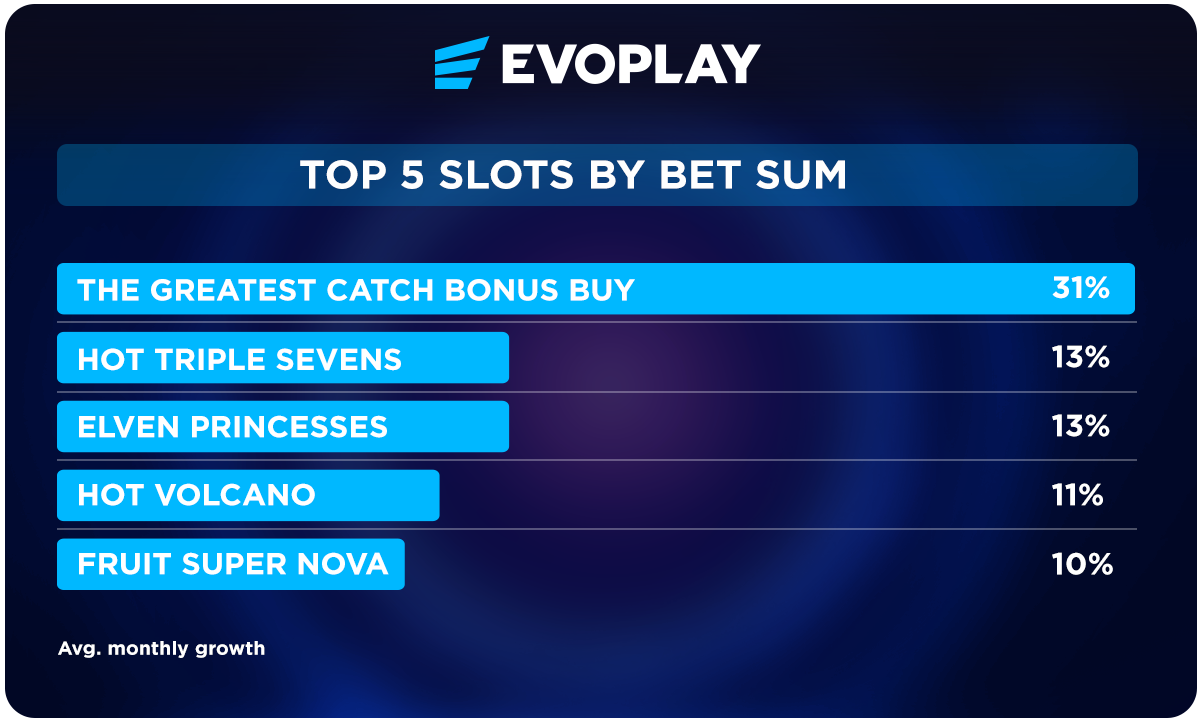 With detailed analysis and a data-driven approach, we have identified these titles as true bestsellers in our portfolio.
The Greatest Catch Bonus Buy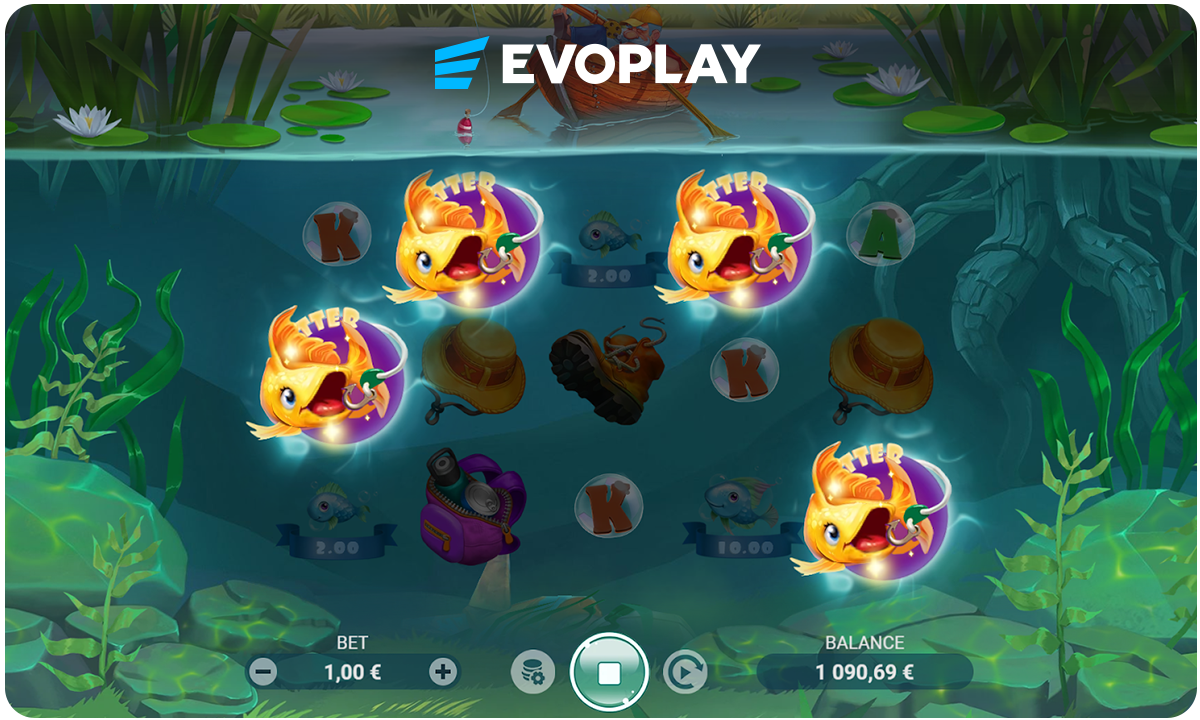 The Greatest Catch Bonus Buy, the sequel to our popular The Greatest Catch series, has made a significant impact in the online casino world. Since its introduction among our partners, it quickly became the top choice among players and remains one of our most successful games to date.
This game tells the story of an aspiring fisherman who spends his days in a weathered wooden boat, daydreaming about catching the biggest and fattest fish. Our players were captivated by this fishing-themed adventure, and the Bonus Buy feature allowed them to dive deeper into an exciting gaming experience, creating a ripple effect of enjoyment.
"The popularity of fishing-themed games is a shining example of how players' hobbies can influence their online gaming experience." 
Ivan Kravchuk,
CEO, Evoplay
The slot has surpassed expectations in terms of player acquisition and retention, breaking records in our statistics, and emerging as a leader in Bet Sum.
It experienced incredible growth in metrics during its initial months after launch, consistently ranking among the top three games.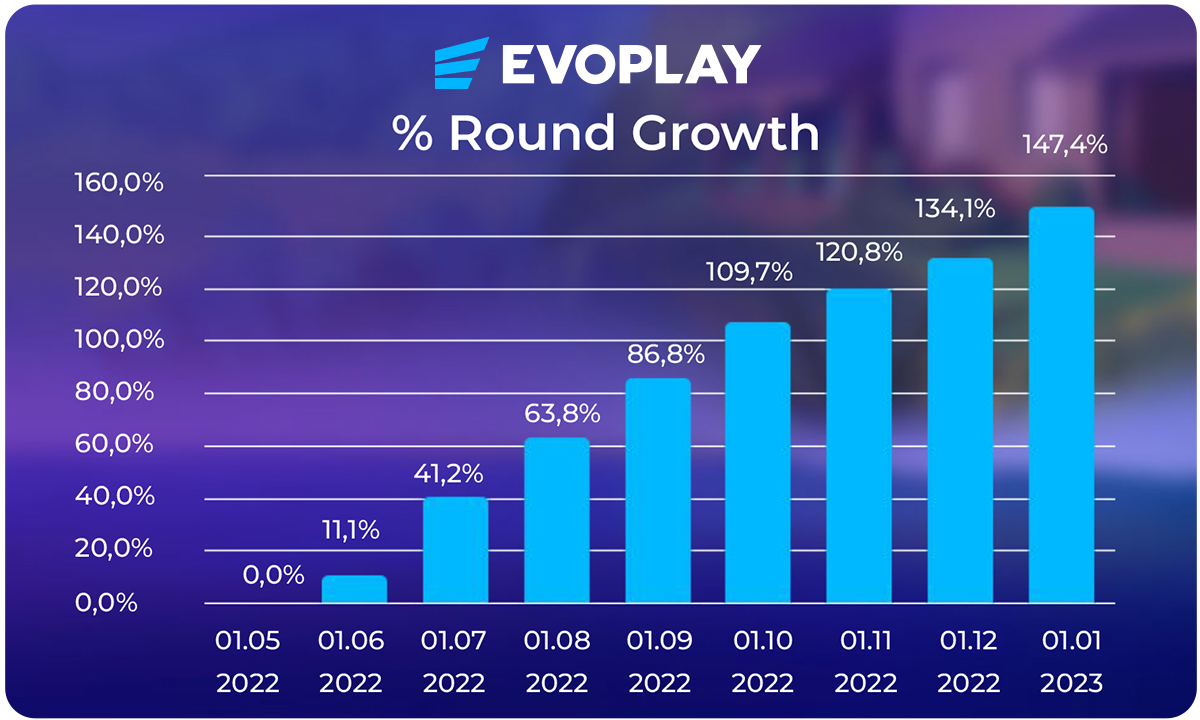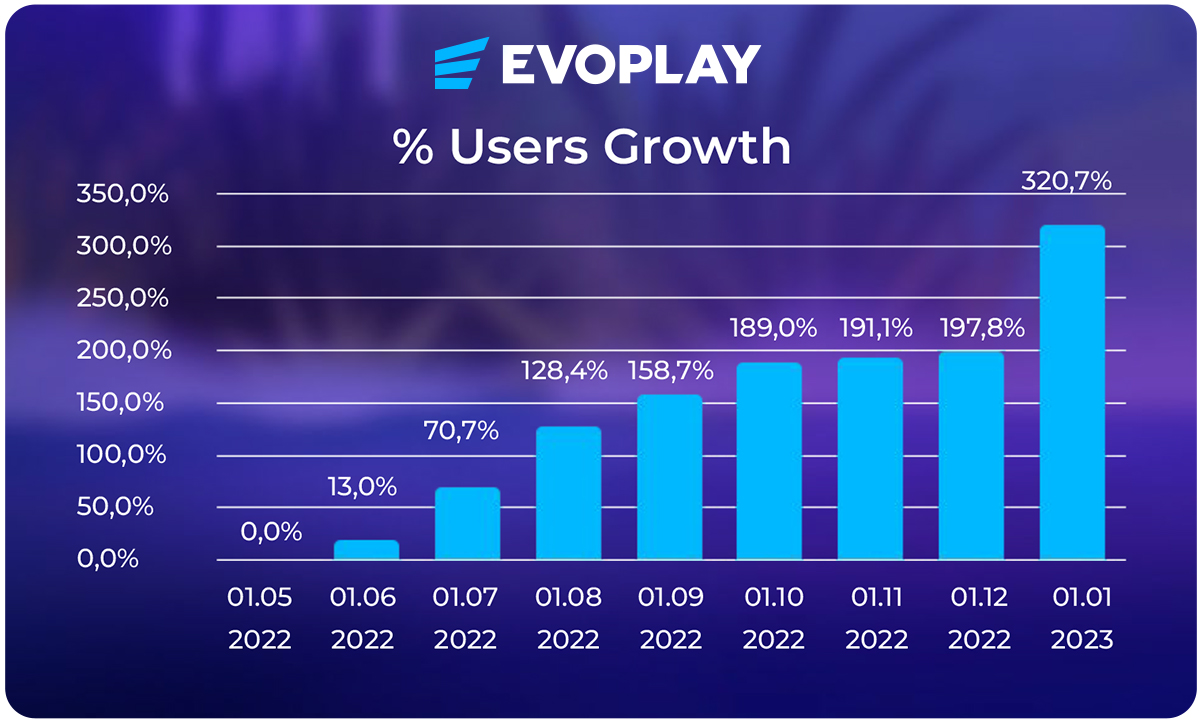 Hot Triple Sevens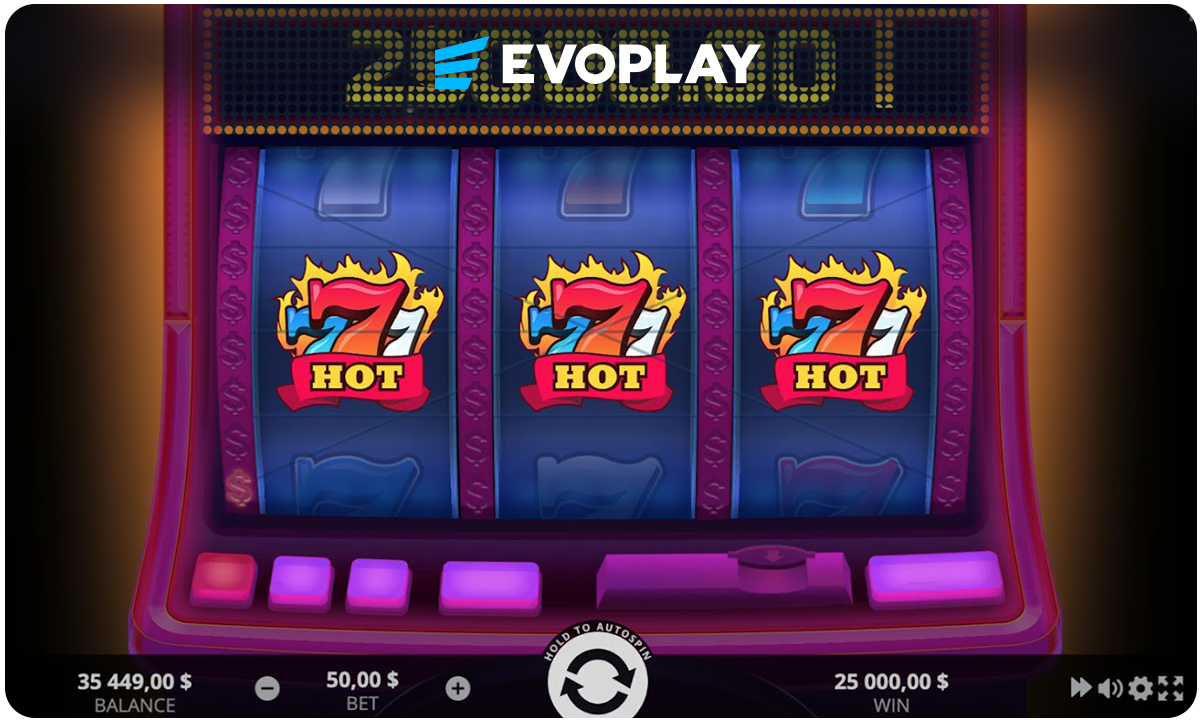 Experience the nostalgic allure of the good old classics as they make a triumphant return in the exhilarating Hot Triple Sevens game. It pays homage to the land-based slot machines that have captivated players in the prestigious casinos of Las Vegas. 
Hot Triple Sevens is more than just a slot game; it's a gateway to an immersive entertainment world. The game transports players to the glitz and glamour of Las Vegas while the mesmerising music adds an extra layer of excitement to the gameplay. And let's not forget the dazzling fountains of coins that await lucky winners, providing an exhilarating rush with every big win!
Featuring 3 reels and 5 paylines, Hot Triple Sevens offers a classic yet thrilling gameplay experience. What sets it apart is the ingenious use of "empty symbols" on each reel. This clever feature ensures heightened anticipation and suspense for players. 
Elven Princesses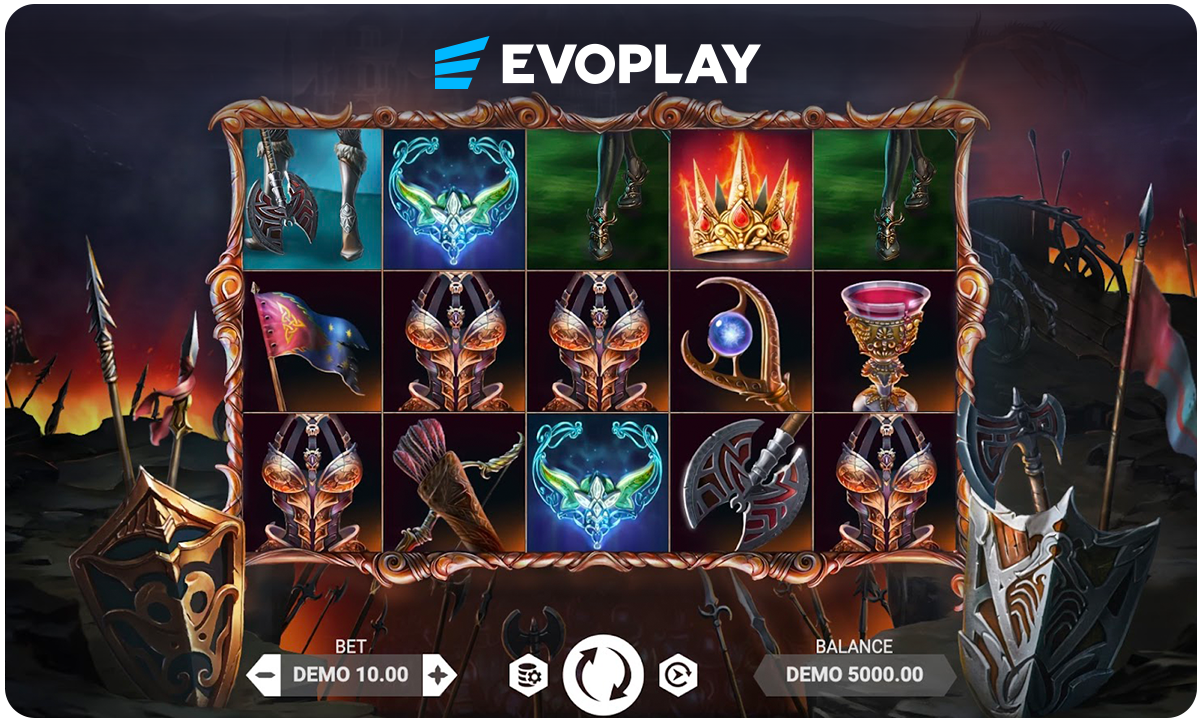 Drawing inspiration from the captivating realm of epic fantasy tales, Elven Princesses embodies Evoplay's magnificent slot games world. It welcomes players to a narrative where they find themselves in the ethereal Kingdom of Elves, a magical place besieged by the ravages of a tumultuous battle, leaving behind smouldering ruins. In this desperate hour, the fate of the kingdom rests upon the shoulders of three resplendent elven heroines: the valiant Warrior, the enchanting Mage, and the expert Archer.
Elven Princesses boasts a 5-reel, 30-payline slot format, offering an array of features designed to captivate discerning audiences. Experience the thrill of the Random Event Wild feature and the variety of Free Spins and Wilds, among other enticing gameplay elements. The game promises an unforgettable journey through the mystical elven adventures and is one of Evoplay's megahits among online casino video slots.
Fruit Super Nova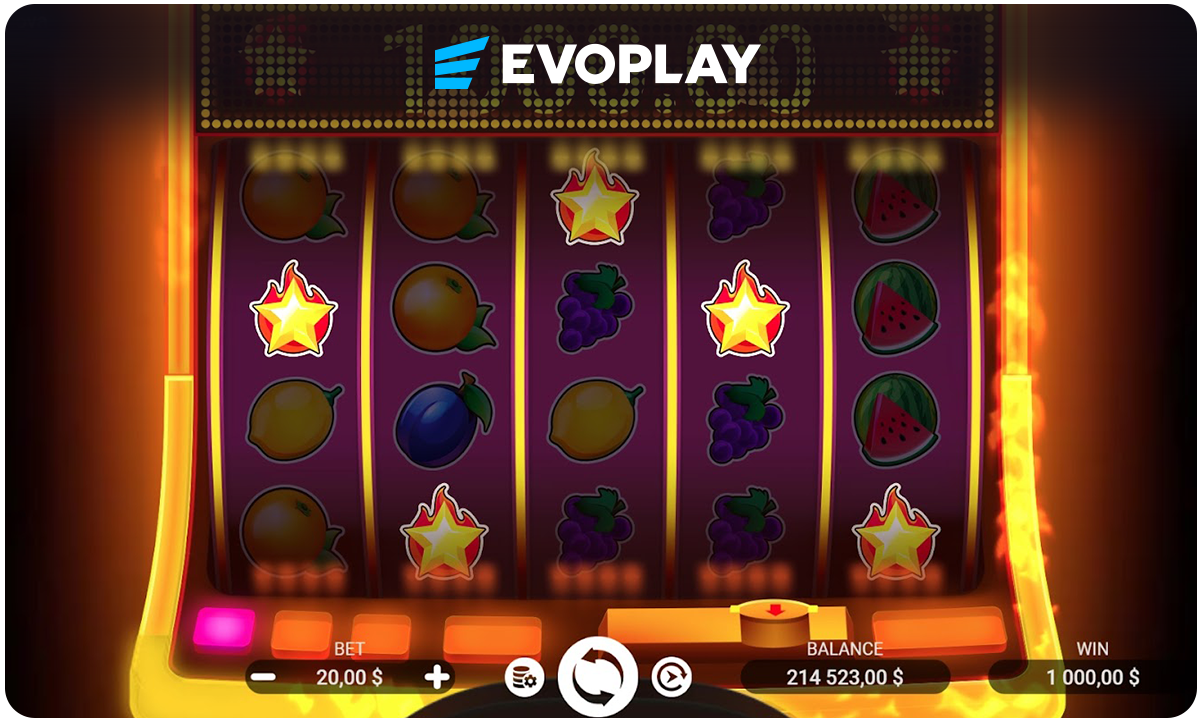 Fruit Super Nova is the cream of the crop of the Evoplay online slots. It is an exciting game that combines classics with a fresh twist. The game captures the essence of traditional fruit slots, embracing the timeless charm of juicy fruits and vibrant colours. Fruit slots have been around for decades and have become iconic in the world of casino gaming. That is why they have a special appeal to players who enjoy reliving the old-fashioned casino experience topped up with the contemporary style.
But what sets Fruit Super Nova apart from other fruit slots is Evoplay's commitment to innovation and modernisation. We've gone above and beyond to add new elements that elevate the gaming experience to new heights. The cherry on top is the additional row of symbols in the reels, providing players with even more opportunities to win big. It enhances both the excitement and the potential payouts, as players can form winning combinations across an extended grid. 
Hot Volcano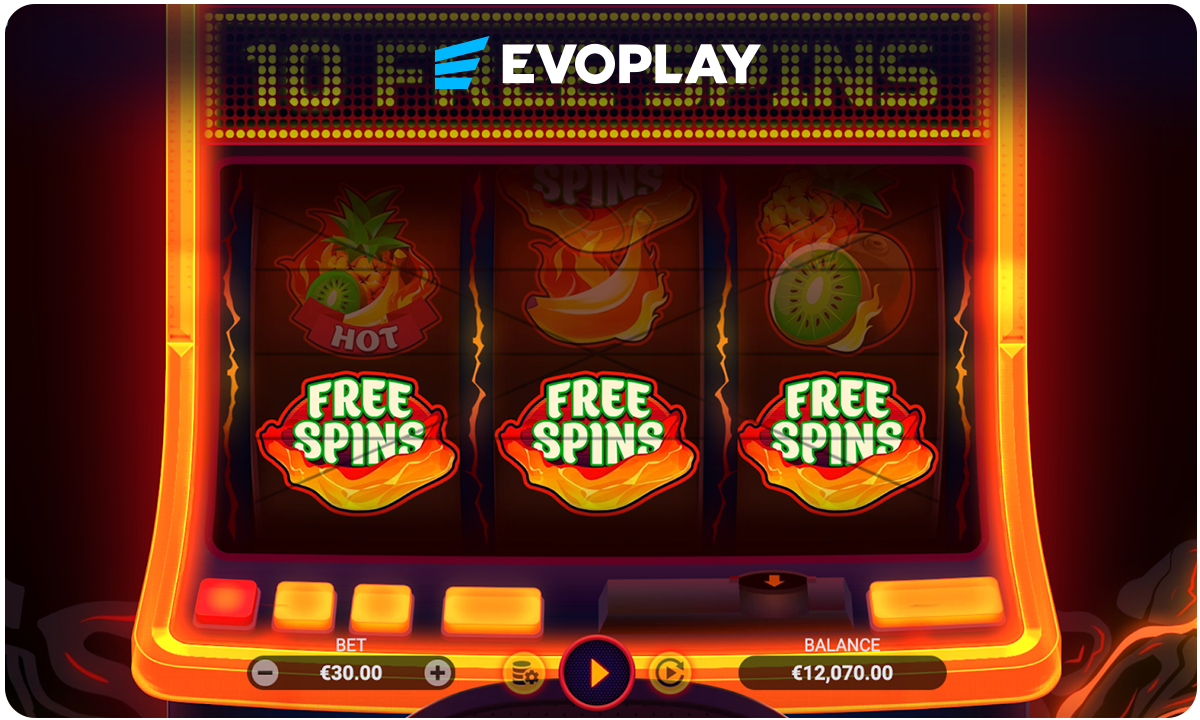 Hot Volcano is the ultimate fusion of Las Vegas vibes and classic style, reinvented for a whole new gaming experience. It keeps players' excitement burning, with mellow fruit captivating them, as they witness these familiar symbols transform into fiery volcanic wins. With flames licking the reels, the fruit in flames will substitute their standard counterparts, igniting winning combinations and keeping players on the edge of their seats.
Prepare for an eruption of entertainment with the HOT symbol. When this symbol appears, a lavish multiplier is triggered, multiplying the excitement and the rewards. And as the Free Spins symbol emerges, enveloped in molten lava, players are propelled into an extended gaming session, where additional winnings await them.
Evoplay slots stand out as remarkable additions to any online casino portfolio, offering a myriad of benefits and strengths that can greatly enhance the gaming experience. From stunning graphics and immersive gameplay to innovative features, they captivate players and keep them engaged!
Elevate your casino's success with Evoplay's slots! Don't wait any longer – email us at business@evoplay.games to start reaping the benefits of these exceptional games and watch your revenue soar.