Blog
In-depth Introduction to Evoplay Slots Provider
31 August 2022
Since we have welcomed aboard a couple of new partners, we wanted to give you a little refresher on Evoplay's slots provider core values, vision, mission and the exciting journey ahead of us. So take this as a re-introduction, so you get a better idea of why you should definitely partner with us!
Belief Particles That Makeup Evoplay
Evoplay slots provider was founded in 2017 to bring data-driven innovation to the online casino business and change the way people perceive gambling, this is not an easy endeavour, but we are confident that it's our duty to bring ground-breaking and never seen before games to the market. We add a new look and feel to casino games compared to some industry giants with more traditional and conservative approaches. We live and breathe innovation, and we want to transform the conventional perceptions of casinos and gambling., and bring the best casino slots to the market.
How?
We develop the sort of games that people desire to play, not only for the benefit in the form of winning but for the entertainment.
We deliver not just games, but gaming journeys
With Evoplay's core values in mind; innovation and entertainment, we are bringing to you 40-45 unique online casino games annually from various different categories such as:
Video slots – for someone who likes traditional gambling excitement, both 2D and 3D
Classics – for those who adore the classics and like to reminisce
Instant games – to attract a whole new demographic of players who enjoy entertainment
Table Games – for fans of poker, roulette, and other table games
And boost each title with the currently most popular gamification solutions such as:
Bonus Buys is an amazing feature for those who like to get straight to it without any time wasted.
Jackpots – those lucky few with winnings
Gamification aspects such as inviting friends, competing in tournaments, and ranking up the leader board.
We bring gambling awareness. With over 160 casino slot games, each one is subjected to stringent local regulatory checks, after which we, our partners and players, can be sure that everything is operating as it should, with minimal malfunctions.  
We are ISO, MGA, and Gaming Labs Certified, enabling us to deliver our best products to Europe, and we are expanding to ensure that we can provide these games to every corner of the world. 
Spinential engine which allows to feel each spin's essentiality
Our in-house customised engine or the Spinential system is our innovative helper thanks to which we are able to x10 optimise new casino games and those that are seeing a drop in popularity, resulting in mobile-friendly games that run as smoothly and glitch-free as possible, enabling you to play wherever, whenever. 
Our casino slot games are sure to fulfil your senses, from the top-notch graphics full of a vast array of colours and designs and visual effects to well-thought-out music and sounds that satisfy your sensory receptors with every click of the mouse.
That's why when our partners and players think about Evoplay, the first comes the quality of visual design and graphics. 
Flagman Games – an annual innovative cherry on top
When it comes to casino games, Evoplay recognises there's more to them than just the standard fruit slots we've all come to adore. However, in order to draw in a younger demographic, we are continuously working to develop cutting-edge games that are both enjoyable and exhilarating enough to keep gamers interested in them for years to come. 
To give an example, "Star Guardians," our new flagman game, is the first third-person shooter gambling game with manual control.
Point-and-click shooters offer a feeling of more control than standard slot games. Over 80,000 people participated in Star Guardians' inaugural tournament after its debut.
We strive to produce iconic flagship online casino games every year to bring to our partners and players the most exciting games. 
Achievements we are proud of
Being five years in the iGaming market is not a lot; however, we've already gained global recognition; earning some of the industry's prestigious accolades such as: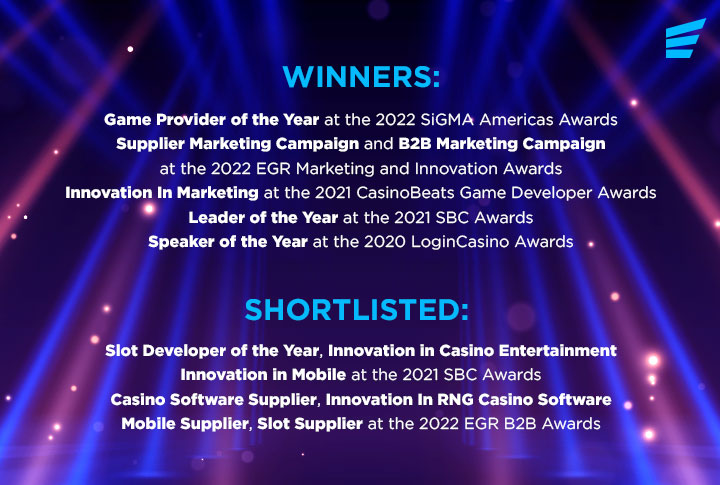 And this, of course, this made us achieve amazing commercial results
Business results:

212% growth in B2B deals, an increase in the number of B2C partners by 40%, 158% in revenue growth, and 350% increase in leads.
1,650 000 users, and that number is growing each day rapidly
317% GGR
88 new integrations 
8 new regulated markets 
Entrance of 9 new markets 
Global market expansion from 10% up to 90% with local certificates and MGA Recognition Letter
Obtaining ISO certification

System of regular partner's support with promotional tools based on audience, market, and cooperation conditions
Over the years, we have partnered with numerous high-profile platforms and operators such as;
ORYX Gaming 
Soft2Bet
Blue Ocean Gaming
SoftSwiss
Parimatch 
Meridian Bet. 
We partner with the best and we cannot wait to see you on that list. 
At Evoplay, we are invested in not just gaining new partners but gaining new relationships. When you choose to partner with us, we'll be here tomorrow with innovative and exclusive game titles, marketing materials, Tournaments with delicious rewards, promotional events, giveaways, game testing on all devices, and 24/7 customer support.
Evoplay is for online casinos
Evoplay, an online casino games provider, is expanding into sports betting and gambling. We feel there are prospective clients waiting for the casino sector to deliver them something interesting.
And also for sportsbooks
We are already dipping our toes into the Sports Betting industry and have released three titles that include features loved by sports bettors, such as choosing which country you play for and predicting penalty shootouts – all of which add a little bit of spice. These are;
We are constantly focusing our efforts on Affiliate marketing, collaborating with industry influencers and experts to make sure that not one person lives another day without knowing about Evoplay! 
Let's Rock the Casino World Together 
As mentioned above, we want our online slot games to attract all generations, from Baby Boomers to Generation Z (those that are of legal age), and all of these generation categories have different gaming preferences, which we take into account and produce titles that appeal to each and every one of them. 
To emphasise, this post isn't so much about us as it is about what we can do for you, which is to bring in new and fascinating players from a variety of markets and entertainment vectors that were not initially interested in the casino sector but were lured in. 
We look forward to having you on our partner's list, and together we can bring innovative, never seen before igames to your online casinos.
Feel free to send us an email at business@evoplay.games and we will share with you all the outstanding activities planned for this year to make sure you get the best out of it!
And in the meantime, feel free to give our other blog post a read, fascinating interview with our CEO Ivan Kravchuk, and CCO Vladimir Malakchi.