blog
July heatwave: Evoplay's game releases
5 July 2023
The heat is on, as the summer collection of the Evoplay online casino games is going to be topped up with new exhilarating releases! Our hot July games are meticulously designed to make waves in the iGaming world, reach new summits, and turn your casino into a must-visit destination this summer. 
Penalty Shoot-out: Street
Release date: July 4
Do you hear the whistle? It's our new instant game, Penalty Shoot-out: Street, rushes into the online gaming field to make its impressive goal for your business metrics. 
Sports-themed experiences have emerged as a powerhouse in terms of popularity and demand. The global appetite for online sports games has reached unprecedented heights, with enthusiasts and casual players alike embracing the immersive thrills of virtual athletics. Recent statistics highlight the remarkable growth and untapped potential of this genre. According to industry reports, online sports games have witnessed a staggering increase in user engagement, with a year-on-year growth of 27% in player participation. 
Harnessing the momentum and strategic market insights, we expanded our repertoire of betting instant games with Penalty Shoot-out: Street. To craft a truly authentic and captivating gameplay environment, we have chosen the vibrant streets of Brazil as the game's backdrop. Brazilian football culture is renowned worldwide, with its streets serving as the ground where dreams of professional football careers and top-league glory take root. 
Penalty Shoot-out: Street boasts dynamic gameplay, thanks to its instant game nature. A progress bar with a growing multiplier is the stimulus to get round a goalkeeper and hit the back of the net. The match is off to an intense start!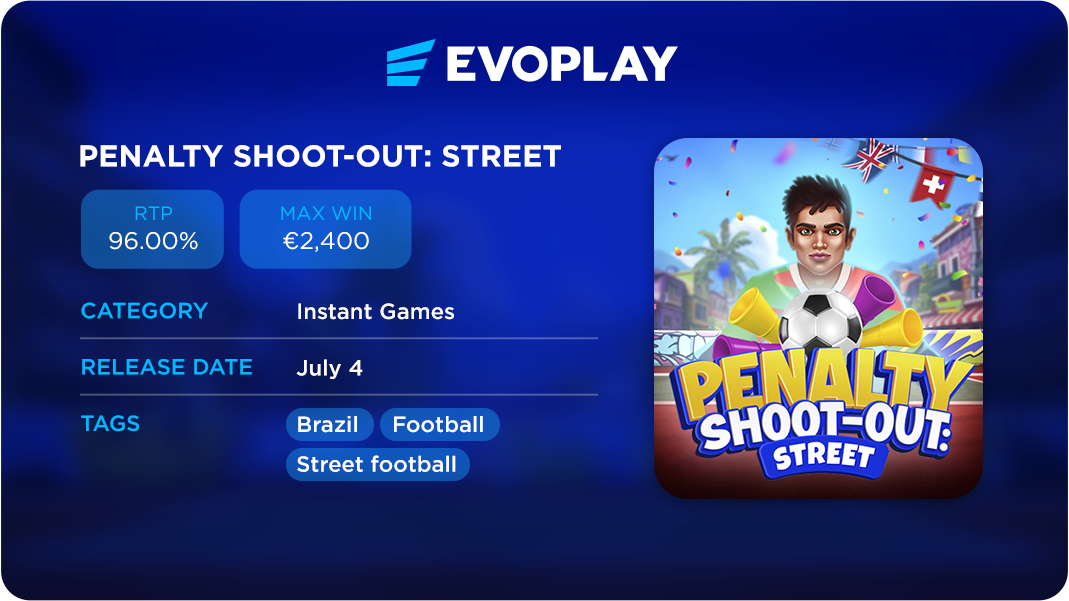 Goddess of the Night Bonus Buy
Release date: July 11
Lucky for those players who adore our Bonus Buy games, we always have something interesting in the making. Goddess of the Night – the game featuring a female warrior during the Aztec empire epoch – enchanted players with its drop mechanic and progressive multipliers. We enhanced the title's immersive plot and enthralling mechanics with the Bonus Buy feature and created Goddess of the Night Bonus Buy. 
The opportunity to get inside an ancient pyramid during the Free Spins game makes the Bonus Buy feature a driving force behind players' desire to activate it. What secrets are hidden in thick pyramid walls? It's time to uncover them and the treasures the place may hide!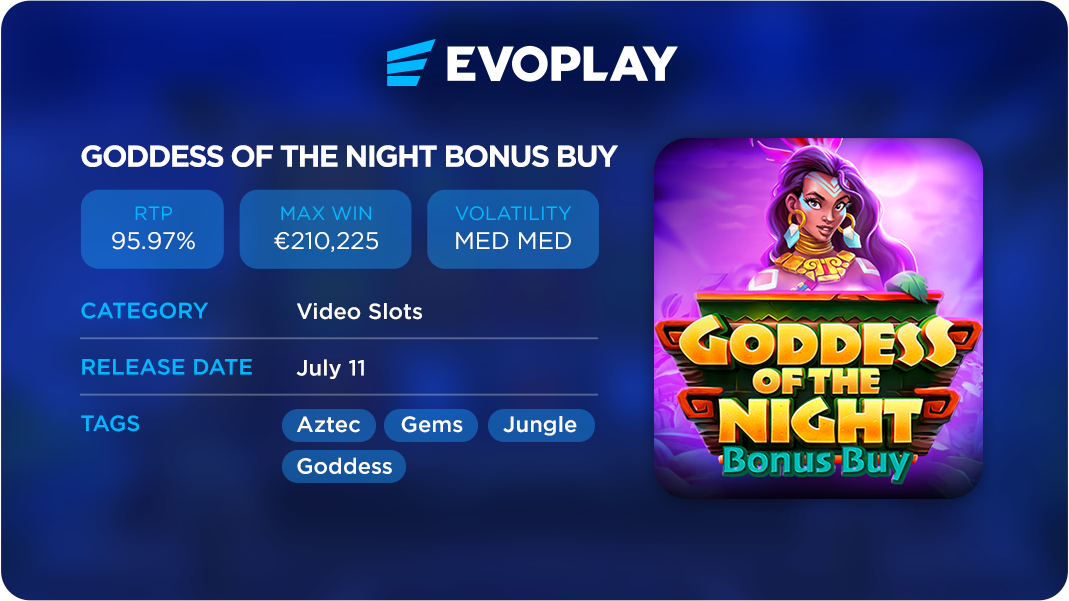 Penalty Roulette
Release date: July 20
Roulette + football… the era of hybrid instant games starts here! We've taken the excitement of football, combined it with one of the players' favourite table games, and created an action-packed title – Penalty Roulette.
It follows the rules of a classic roulette game but with a twist that will make football enthusiasts jump for joy. Picture yourself in a bustling football stadium surrounded by cheering fans. The player gets to make multiple bets by choosing sectors on a football net, and then it's time to kick off the ball!
As the ball soars through the field, anticipation builds, and hearts race. Will it hit one of the chosen sectors? The chance of a triumphal win may become a reality! This unique combination of football and roulette creates an unmatched sporting vibe that will keep players on the edge of their seats.
Penalty Roulette is set to become an instant bestseller at casinos, and here's why. It's a game changer in the world of table games, offering an innovative and fresh concept that's never been seen before. By seamlessly blending the excitement of football with the thrill of roulette, we've created a game that appeals to a broader audience, including both sports enthusiasts and casino players.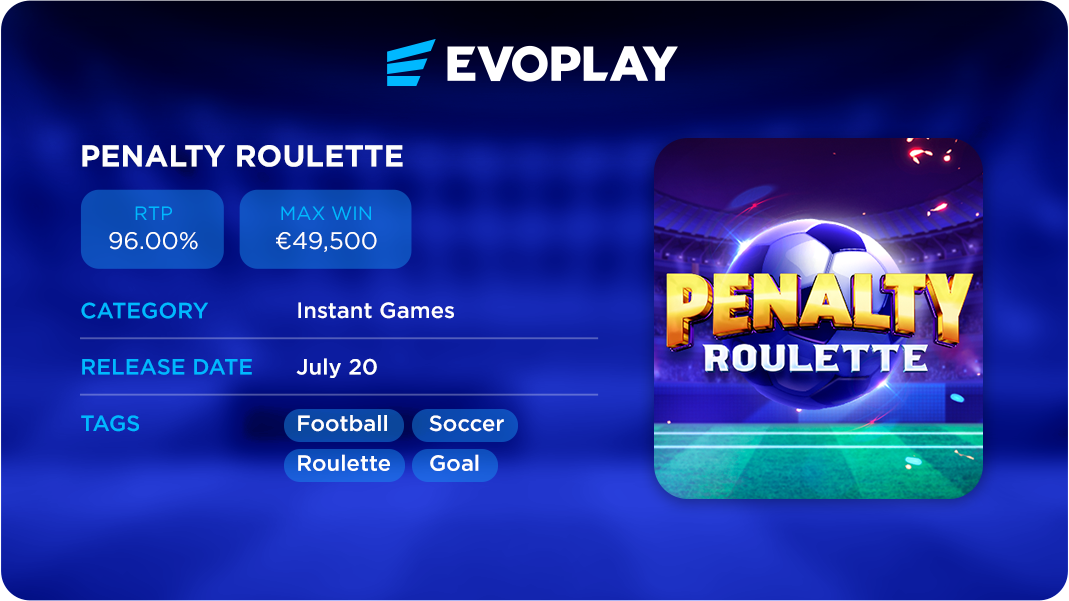 Northern Temple Bonus Buy
Release date: July 25
Add Nordic adventures to your casino game offering with our upcoming Scandinavian-style release – Northern Temple Bonus Buy.
The Northern Temple Bonus Buy game is a true gem among online video slots that will captivate your players with its unique blend of immersive gameplay and innovative features, setting it apart from other titles. With its growing reels, every spin offers an expanding playground of opportunities, increasing the excitement and potential for substantial wins.
What truly sets the game apart is its alluring Bonus Buy feature, an addition to its predecessor – Northern Temple. It empowers your players to uncover the temple's secrets like never before, allowing them to harness the magic within and unlock unimaginable rewards. The power of Free Spins can be invoked at any moment during gameplay, offering an extra layer of entertainment and anticipation.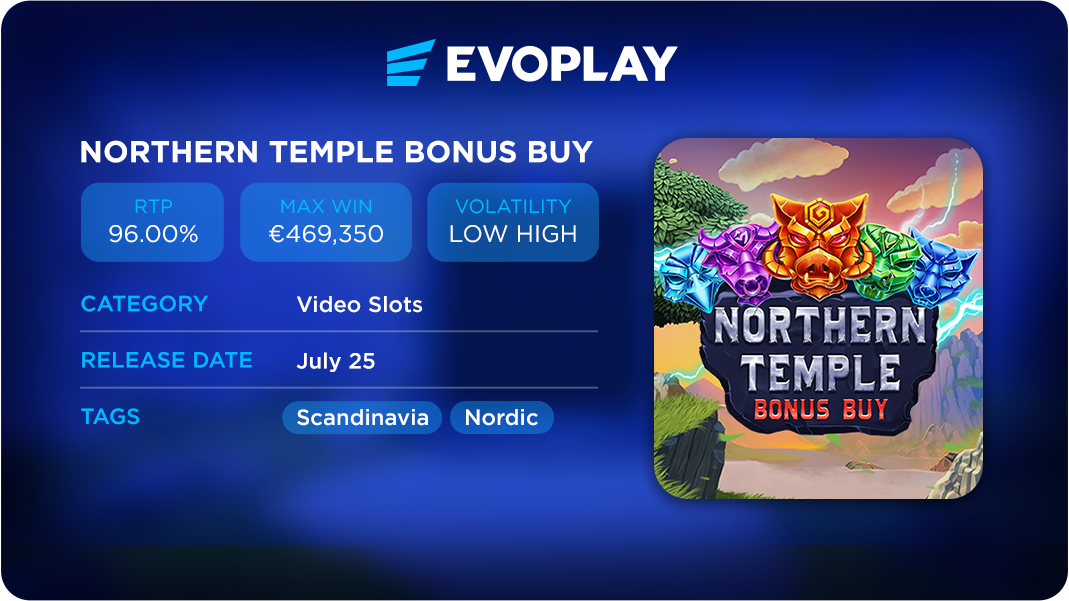 Get ready to set the casino world ablaze this July with Evoplay's hot releases. Remember, the early bird catches the jackpot!
Contact us now at business@evoplay.games and let our games speak volumes as they transform your casino into a coveted destination for iGamers.