blog
Why sports iGaming content will continue riding the hypetrain
The world of sports is a remarkable achievement of human strength, passion, unity, and competition. From the bustling streets of Rio de Janeiro to the quiet countryside villages of England, sports have an unparalleled ability to transcend boundaries, cultures, and languages.
Football, for example, or soccer, for our friends across the pond, has captured the hearts of an astonishing 3.5 billion fans globally, making it the undisputed sports champion. We also can't overlook cricket, boasting an impressive 2.5+ billion devoted fans, or tennis, steadily garnering a remarkable 1 billion enthusiasts. Not a football or tennis fan? What about martial arts? On a global scale, this sector is swiftly expanding and is projected to surge to an impressive $171.14 billion by 2028. 
Sports are a dynamic and ever-evolving domain, with each sector boasting a dedicated fanbase hungry for sports-related content. Amid this fervour, iGaming providers shouldn't miss the opportunity to integrate and resonate with this audience seamlessly. And this untapped avenue for engaging fans will only be increasing. 
Sports content keeps topping the charts, and here is why
Sports content is a perennial chart-topper, first, due to its unparalleled ability to evoke raw emotions and passion from a diverse audience. True sports fans are a special breed. They are not just watching, they are living and breathing every moment of the game, cheering like there's no tomorrow, and painting the town (and themselves) in their team's colours. Every big sports event is like a wild family reunion where everyone's in the same crazy outfit, and this emotional connection is what keeps the sporting world spinning.
The sports scene is a buzzing hive of excitement, constantly churning out news hooks that captivate the masses. Take the recent colossal move of Messi joining Inter Miami – it was a true game-changer that set the media ablaze, fueling the already passionate football community. The hype around such monumental events amplifies the excitement, keeps the conversations rolling, and fans on the edge of their seats. That's the undeniable allure of the sports world – always in the spotlight, always stirring the chatter.
Second fact: the evolution of technology has amplified the reach and engagement of sports content. With the advent of streaming platforms, social media, and mobile apps, fans can now access and interact with sports content anytime, anywhere. 
Keeping this in mind, to meet the constant demand for sports content, we've developed a bunch of sports-themed games that have shown impressive results on a scoreboard. Take, for instance, Penalty Shoot-out: Street, Penalty Series, Football Bet, and Football Manager.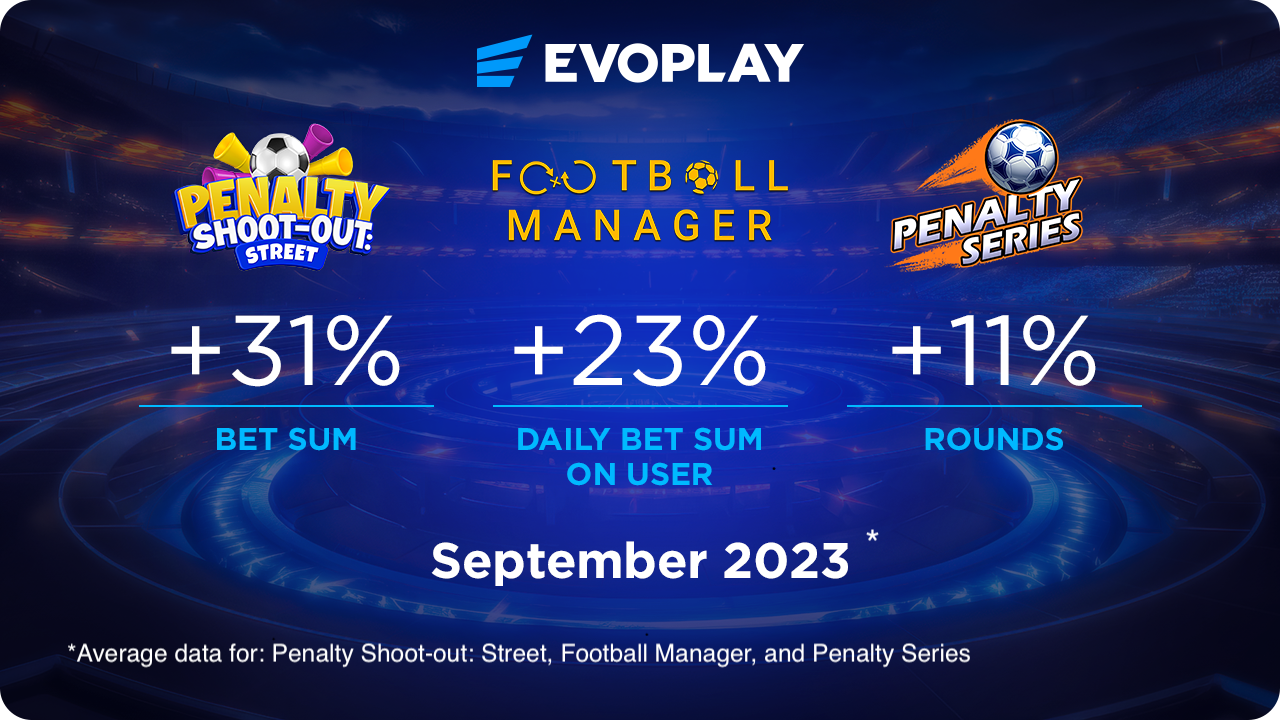 To keep the good times rolling, we don't stop at the success of already released games. After Penalty Shoot-out rocked the scene, we decided to create Penalty Shoot-out: Street, the game targeted at Latin American players. That has worked perfectly, and the game has been shown to increase retention by more than 20%, which is absolutely fantastic. Moreover, the title performs exceptionally well in the LatAm market, representing a dominant share of 60% in Bet Sum, 55% in GGR, 53% in Rounds, and 70% in Users compared to the overall traffic across all regions. 
The success of sports-themed games is all about giving fans exactly what they hunger for. These games deliver the intense atmosphere of a sports competition right to players' fingertips. It's like stepping onto the virtual field and taking control of the game. With the betting feature implemented in our sports titles, we've tapped into the very essence of what makes sports-watching exhilarating for many, that extra adrenaline rush when you've got a stake in the game. It's a winning formula, mirroring the real-life practice of watching a match and placing a bet on it.
What sets sports-themed iGaming content apart is the freedom it offers. No more being confined by TV schedules or waiting for the next match. Players want to experience the thrill of sports, players dive in whenever they want. 
Wrapping it up
The global spectator sports market is set to soar, reaching $354 billion by 2026. This results from emerging market growth, rapid urbanisation, rising sponsorships, and an increase in internet-accessible devices. Sports fans represent a significant economic force, generating revenue through merchandise, sponsorships, media rights, and related content consumption. Sports betting accounts for around 30-40% of the worldwide gambling business – and this is one more side of how fans interact with their favourite sports. 
To connect the dots, with that fiery passion for sports in mind, the world of sports merges with the world of sports-themed casino games. What I'm saying here is that we, the iGaming industry, can either watch this mighty river or become part of the flow and reap its benefits. Without offering content that resonates with sports enthusiasts and bettors, casinos risk falling behind in a highly competitive landscape, missing out on revenue, and engaging a substantial audience.
Evoplay is your winning play to ensure you never miss scoring that goal. Reach out to us at business@evoplay.games, and let's chat about leveraging our sports-focused content, supported by proven metrics, to meet the relentless demand for it.
Want to grow your casino stats with our captivating games? We're here to connect and offer the best solutions — reach out to us at business@evoplay.games.