blog
Case study: How we created a game that dazzled LatAm pitch and outpaced other titles by 542% + Infographic
In Latin America, football isn't just a game; it's a way of life. Imagine this: over 90% of people across the region share a fervent passion for the sport. It's like a unifying force, a glue that holds fans together. Over 70% of Latin Americans are die-hard enough to regularly show up at local matches. Around 85% of families pass down their love for the sport from one generation to the next. It's a cultural phenomenon that transcends time. This connection is about being fans of a game that is more than just 22 players on a field; it's the enduring power to inspire, unite, and define the very soul of Latin America. 
To expand our presence in Latin America, cater to this football-fanatical audience, and build on the success of our metric goalscorer, Penalty Shoot-out, we've embarked on the development of a new game infused with a Brazilian flair, drawing inspiration from the authenticity of street football matches. It sounded the opening whistle for Penalty Shoot-out: Street, an instant game poised to become a bestseller not only among LatAm football fans but worldwide.
Here is Penalty Shoot-out: Street's winning score globally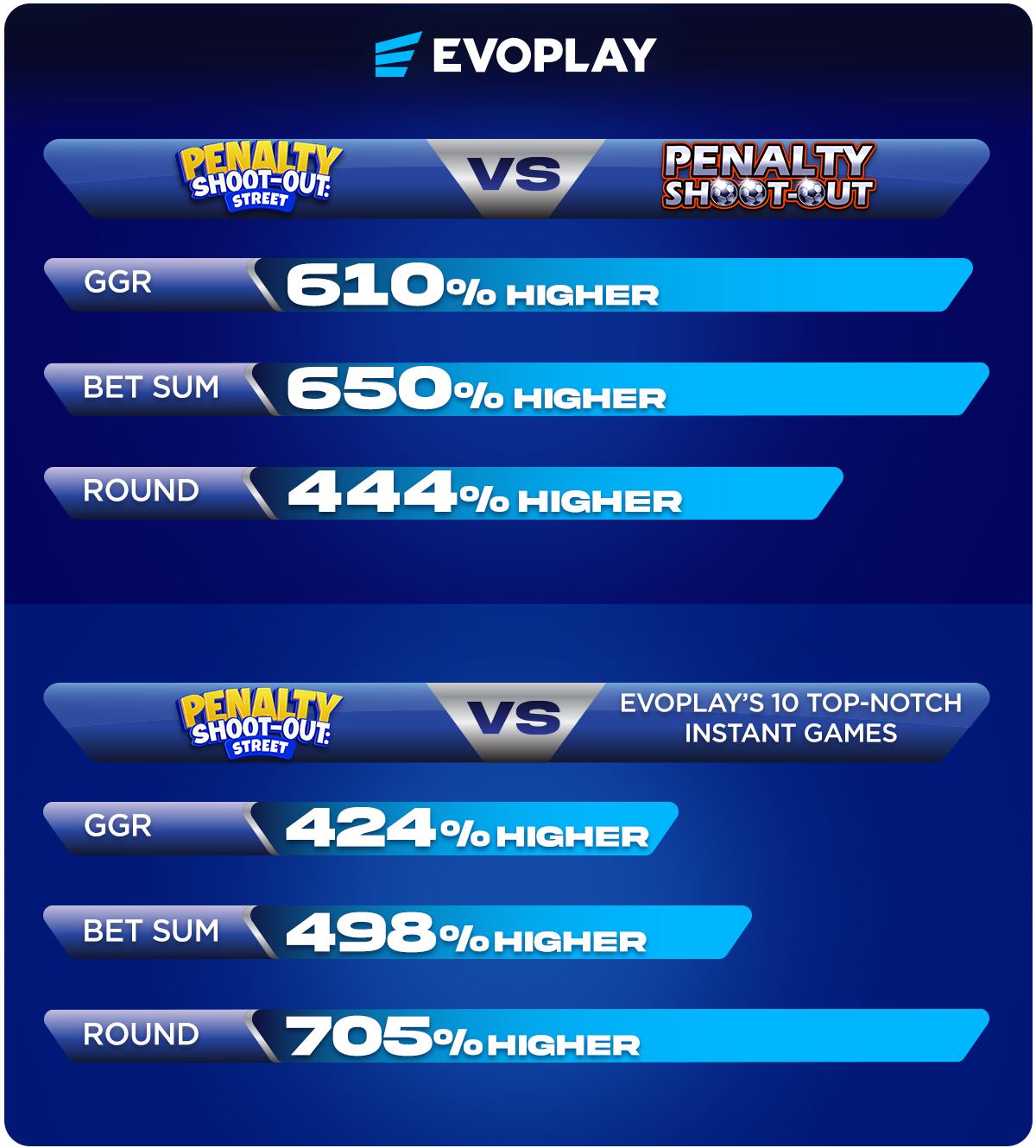 And here is the captivating backstory behind the triumph of Penalty Shoot-out: Street.
From training camp to the stadium with all eyes on the game  
Latin America has produced a plethora of world-class footballers, many of whom are revered globally. Legends like Pelé, Ronaldo Nazário, Ronaldinho, Neymar, and many others have left an indelible mark on the game and continue to inspire aspiring players and fans alike.
Penalty Shoot-out: Street is a celebration of all those iconic traditions that motivate young talents to dive into amateur football to become one of these superstars. Throughout the game's development, we devoted our utmost efforts to portray the natural atmosphere of football fervour that permeates the region.
We designed a vibrant backdrop to capture the essence of a local football field nestled within the bustling streets of Salvador. To enhance the game's complexity, we incorporated both aerial and ground-level perspectives, featuring a white football net as a symbol of scoring goals and a goalkeeper as the focal point. 
Research shows that for Latin American iGamers, realism and authenticity come out in the first place. Accurate representation of players, teams, stadiums, and leagues is crucial. It's worth noting that street football is a whole different ballgame compared to its standard version. We conducted extensive research, delving into aspects ranging from the appearance of the goalposts to the type of pitch covering used.
Spending hours just glued to videos about Brazil, soaking up all the sights of its streets and diving into its culture did wonders for us in nailing down the background details. The colour palette we used in Penalty Shoot-out: Street was meticulously curated to harmonise with the unique cultural nuances of Brazil. To recreate the unique climate of Latin America and immerse players in the gameplay, we included a blazing sun, under which players skillfully manoeuvre the ball.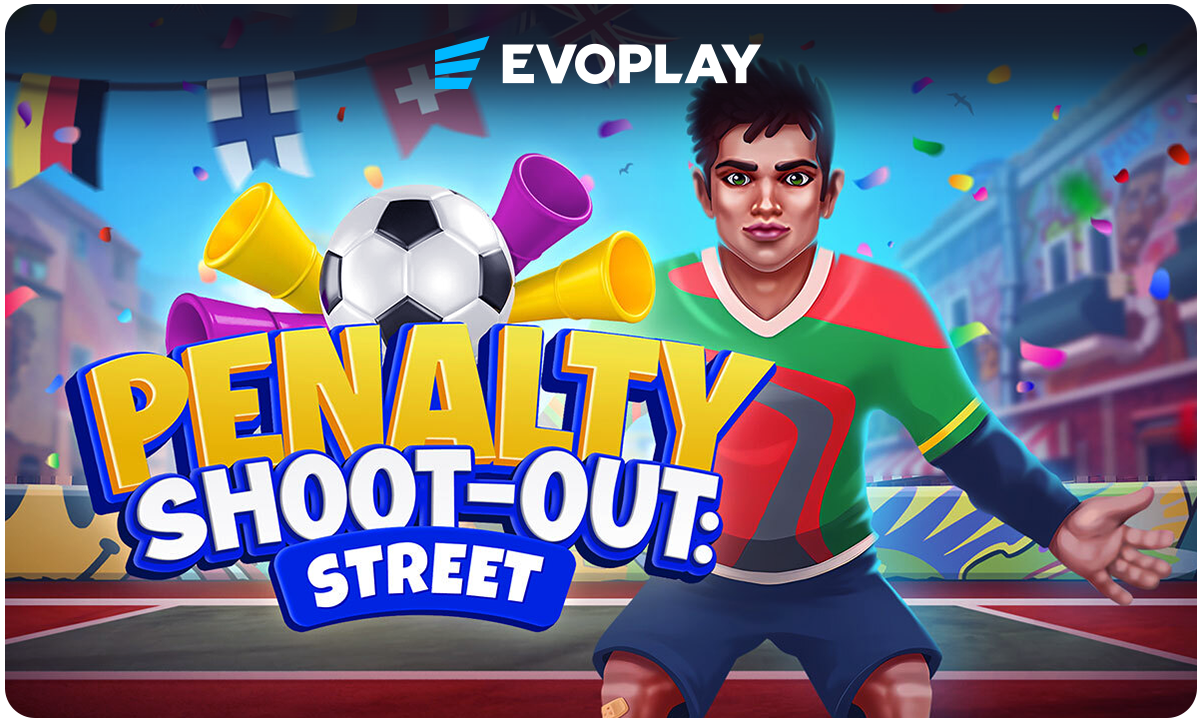 Taking one of our most popular mechanics, we 'played' with it, adding a layer of interactivity to enhance the game's dynamics. It gave ample scope to the imagination: we made the football net more interactive, which immediately influenced the goalkeeper as he needed to move more. We tested this, and it was fascinating to observe how he handled the challenge. Even though he was skilled enough, he still had to make lots of moves. That's when we decided to incorporate a few effects on the ball to work around this. 
To infuse some innovation into the game, we introduced a feature that allows players to aim for any section of the net. Moreover, players can now use the sliding mechanic to guide the ball, enhancing the game with a unique allure and adding more control to the process.
The title's fast nature totally matches the Latin American temperament. By removing unnecessary intermediate steps, we allow players to dive into the game the moment they spot the ball. To amplify this experience, we fine-tuned the code and animations, maintaining a high tempo throughout the gameplay.
One of our primary goals was to create gameplay that's both dynamic and immersive, providing a balance of excitement and relaxation. We wanted players to feel cheerful and optimistic as they engage with the title. And we did a good job!
Penalty Shoot-out: Street – the goalscorer formula
This is how Penalty Shoot-out: Street entered the iGaming field, giving players an inspiring story where local football enthusiasts chase their big dreams of reaching the top leagues and landing those lucrative six-figure contracts.
We framed the title into an instant game format that perfectly fits into both – casino platforms and sportsbooks. Fast and dynamic gameplay that maximally resonates with Latin American players includes a betting feature – a gambling factor that lies at the core of both industry sectors. Players pick their favourite country's team, make a bet, and select a spot on the net to take their shot. As they score more goals, the multiplier goes up, delivering the same thrill and excitement that gamblers experience with each spin or bet.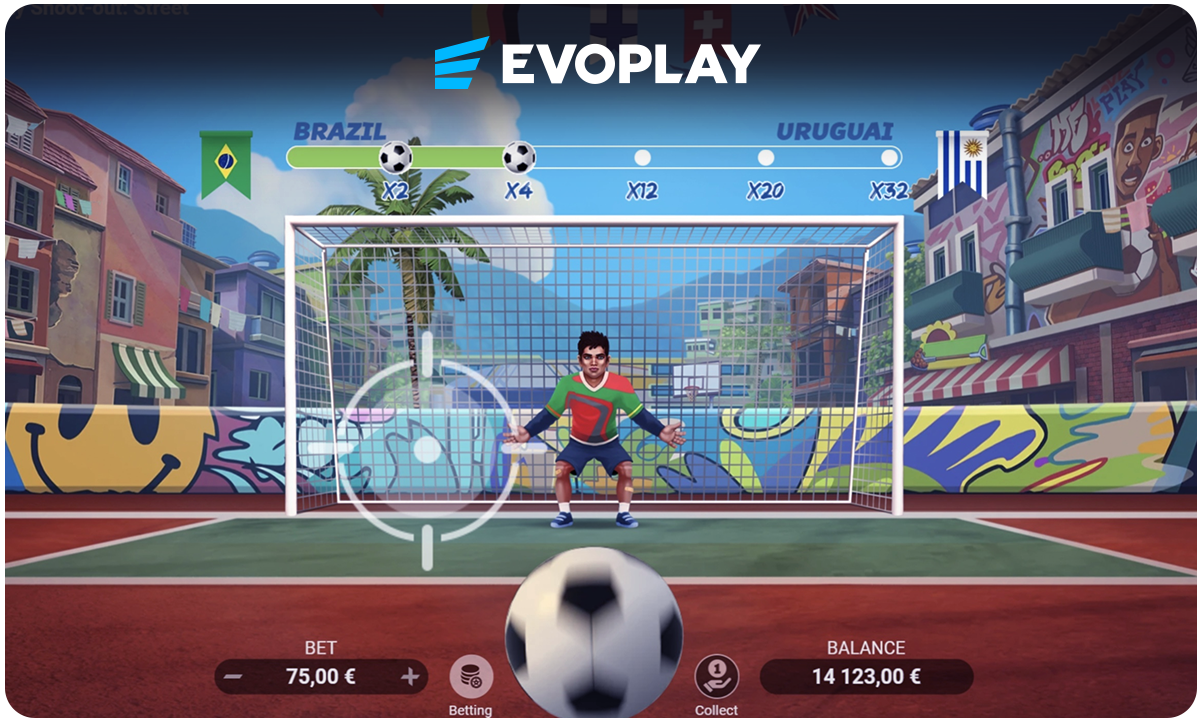 The game brought together the best of both worlds, the gambling nature of casino games and the betting mechanic of sports betting, allowing casinos to instantly engage new audiences and sportsbooks – to retain bettors even when the real football matches calendar is empty.
A new player is stepping onto the pitch
Lionel Messi once said: "Goals are only important if they win games." When creating any of Evoplay's products, we have a clear goal. We understand who will play this title and how it will find success in the iGaming field. 
There are 5 billion football fans worldwide, with Latin America having one of the largest fanbases, and Penalty Shoot-out: Street is definitely the product to capture its attention.
Having launched the game exclusively among a selection of partners in Latin America, we received some really positive feedback. What is more, the title performs particularly well in the LatAm market, and it has definitely shown in our metrics:
Penalty Shoot-out: Street in LatAm accounts for 60% of Bet Sum, 55% of GGR, 53% of Rounds, and 70% of Users from the overall traffic across all regions. 
The partners recognise the game's superpower when it comes to retention, so it's no surprise that, in the region, the game's stats are growing on a weekly basis – by 24% in Round Count, 32% in GGR, 30% in Bet Sum, 16% in Users. 
What we see now is that comparing the title's performance in Latin America with other regions where it's live, LatAm boasts a 53% higher Bet Sum, 20% – GGR, 15% – Round Count, and 160% – Users.
Penalty Shoot-out: Street has paved the way not only for our expansion in this region but also for reaching sports fans on a global scale. FIFA's vision "to make football truly global" has become the source of our inspiration as football is the world's most popular sport, meaning the demand for such content is literally in every corner of the earth.
That's why the title quickly made its way into the top 2 games across all KPIs, holding the number 1 spot in Bet Sum growth pace among all the products Evoplay introduced in 2023. It's also securing a top 3 position among all our games in terms of metrics growth tempo, surpassing even strong performers like The Greatest Catch Bonus Buy and Hot Volcano.
At the core of any game is the audience, the players. Their engagement and feedback are the most valuable asset, shaping the overall success of a product. In the context of Penalty Shoot-out: Street, the use of social media enabled us to obtain significant insights into its reception and perception among iGamers. 
To illustrate, on Evoplay's official YouTube channel, the video about the game got x3 more views compared to other content. It showcases the gameplay's flow and highlights the main features, painting a vivid picture of its atmosphere. This lets viewers dive right into the storyline and form a genuine emotional connection with the game, starting from the very first minute. Our statistics back this up by demonstrating impressive engagement levels, affirming that the title truly strikes a chord with the audience and captivates them. 
It's time to hit the back of the net with Penalty Shoot-out: Street
The sports betting audience, which accounts for roughly 70% of gambling revenue, is one of the biggest honeypots for casinos. On the flip side, sportsbooks have their work cut out to keep die-hard football fans in check while their favourite teams hit the training ground and gear up for upcoming matches.
Crafting Penalty Shoot-out: Street, we had this in mind. So, we saw it as a real win-win play – serving as a cross-sell product that reaches both goals. We let our casino partners kick off by connecting with the sports bettors' crowd. And for sportsbooks, it's a game-changing 'hook' that keeps their crowd roaring, even during those off-match days.
To score big on this, we orchestrated a hat-trick of powerhouse elements primed for maximum engagement: a betting feature, an ever-pumped sports theme, and an instant game format.
The fusion of these elements led to incredible success, especially in the rapidly growing LatAm market, where football-passionate iGamers are in abundance. The street soccer vibes not only resonated with players locally but also scored big on a global scale.
You can have a meticulously selected game collection to offer your audience, but it won't feel complete until you have that one top-of-the-line game. 
Penalty Shoot-out: Street has shown an impressive performance, gathering a stadium of fans worldwide. And it can gather the one for YOUR iGaming platform! 
Just kick off the opportunity by emailing us at business@evoplay.games.