blog
Crack the code to player delight: top 5 game themes
9 June 2023
As a premier iGaming developer, Evoplay has created a remarkable collection of games that have redefined player engagement in the industry. We constantly explore the latest trends and meticulously analyse player preferences to handpick themes that resonate deeply with the audience.
Our dedication to understanding what captivates players has enabled us to curate a selection of game themes that consistently mesmerise players worldwide. In this article, we invite you to explore them and discover their immense potential for enhancing your business's profitability and player retention.
The winning bet in casino offerings – betting-based games
In the realm of online entertainment, a rising star has captured players' attention – online betting games for sportsbooks and casinos. 
Gone are the days of being tied to the schedules of real sports fixtures; now, players can play betting games anytime. The virtual arena of online casino games beckons, offering a feast of sports events to bet on. 
In the Evoplay betting games, Penalty Shoot-out, Penalty Series, Football Bet, and Long Ball, we have successfully captured the essence of sports wagering and the electrifying atmosphere of top-league matches. Transforming the exhilaration of the stadium experience into game formats, players can now relish the thrill of placing bets while immersing themselves in the excitement synonymous with high-profile sporting events. 
While sports-themed games have long been associated with betting features, the integration of wagering mechanics can extend beyond this genre. In one of our creations, Goblin Run, a third-person runner crash instant game, we have seamlessly incorporated the betting element into a captivating storyline. Players find themselves in the narrative of a greedy goblin and a fearsome dragon guarding its treasure, all while enjoying the excitement of placing bets. Furthermore, Goblin Run offers diverse customisable skins, allowing players to personalise their gaming experience, and five challenging levels that keep the adrenaline pumping at every turn.
With instant betting games, the wagering experience is no longer confined to a mere slice of time; it becomes a thrilling adventure that players can embark on whenever their spirits soar.
Sports games to dominate the iGaming field
According to the latest statistics, sports games have secured their position in the top five gaming genres. Even more fascinating is that 93.3% of players who engage in such games self-identify as ardent sports fans. These individuals are not merely casual gamers; they possess a deep-rooted interest in sports in their daily lives and actively seek sports-related entertainment even during periods when matches are not readily available. 
One of the reasons players are drawn to Evoplay's sports games is their ability to fill the void when there is a lull in the real sports event schedule. These instant games serve as perfect time-fillers, allowing enthusiasts to indulge in their passion for sports, even when the on-field action is temporarily on hold. 
Among the impressive collection of sports instant games offered by Evoplay, some notable titles include Penalty Shoot-out, Penalty Series, Football Bet, Long Ball, and Soccer Solo Striker. They attract a vast audience, ranging from avid bettors and sports fans to casino players and video gamers. By redirecting the traffic of those interested in sports to casinos and sportsbooks, these online instant games create a symbiotic relationship, maximising the activity on our partners' platforms.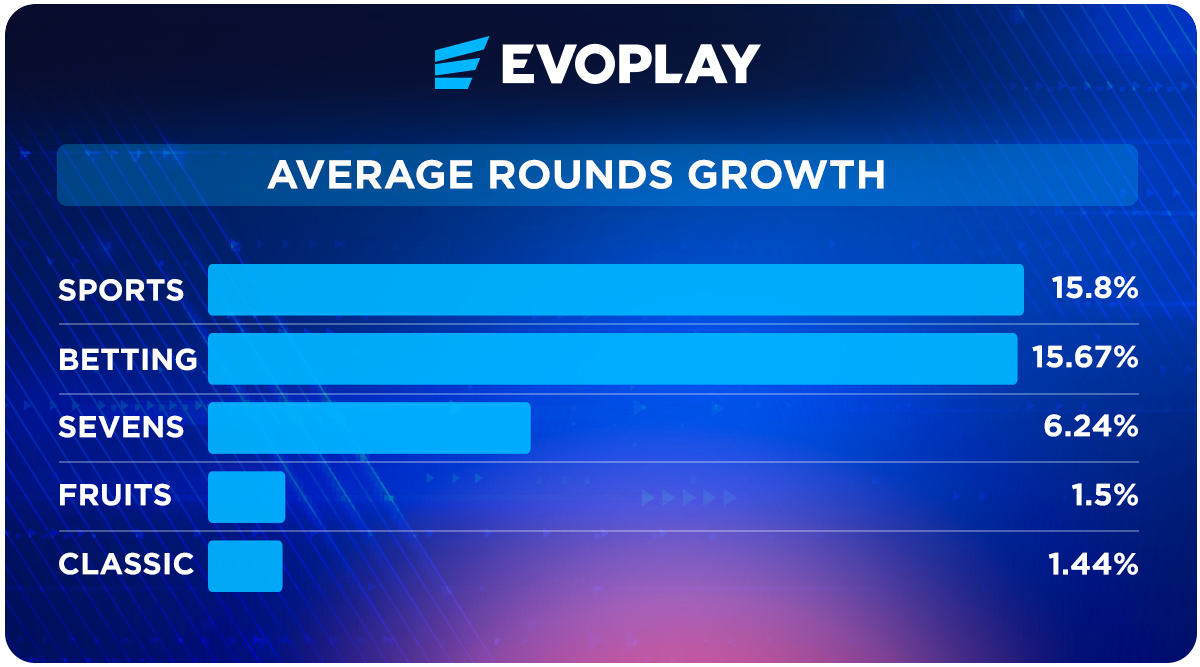 Timeless classics
Players are often drawn to classic slot games for their timeless appeal and nostalgic charm. These games possess a unique ability to transport players to another era, evoking feelings of old-school gambling. Classic casino slots often feature straightforward mechanics and intuitive gameplay that allow players to focus on the pure joy of playing. 
At Evoplay, we create classic online slots that resemble their land-based counterparts. These games often feature iconic symbols such as fruits, sevens, and other traditional motifs that have become synonymous with casino gaming. The familiarity of these symbols creates a sense of comfort and recognition, allowing players to connect easily with the game and its mechanics. Being recognised as innovators, we add a fresh layer to our classic slots with modern art and sounding, yet keeping the authenticity that players love. To illustrate, such games as Fruit Super Nova or Ice Mania bridge the traditional casino experience and modernised approach to iGaming. 
By appealing to players' desire for traditional gaming experiences, Evoplay's classic online slots can help casinos diversify their offerings, expand their player base, increase customer satisfaction, and create a well-balanced and engaging gaming environment.
The cream of the crop – fruit games
Fruit-themed online slots have gained significant popularity among players. The vibrant and visually appealing fruit symbols create an enticing atmosphere to spin the reels. Evoplay's renowned video slots like Hot Volcano and Juicy Gems exemplify the appeal of these games, featuring stunning graphics, captivating sound effects, and immersive gameplay. 
What sets fruit-themed online video slots apart is their ability to strike a balance between simplicity and excitement, making them accessible to both seasoned players and newcomers. With the potential for thrilling features, such as Free Spins, and the allure of bright and engaging aesthetics, these online casino video slots have undeniably captured the attention and enthusiasm of players worldwide. 
As a result, they have emerged as not only beloved entertainment options but also significant revenue generators for online casinos. The Evoplay games with fruits attract a broad player base, resulting in increased engagement and longer gaming sessions. 
The allure of sevens
The allure of the seven is deeply ingrained in the history of gambling, where it has long been revered as a harbinger of good fortune. Sevens are inseparably linked to the illustrious city of Las Vegas, the epitome of gambling and entertainment. The mention of sevens instantly transports the mind to the dazzling lights and the exhilaration of the casino floor with classic slot machines.
In the iGaming realm, sevens also hold an undeniable charm and magnetism. Their symbolism guides players on a journey of luck and triumph. Evoplay has masterfully harnessed the captivating power of the seven. We have developed a collection of online video slots that pay homage to its irresistible allure. The Evoplay online casino games, such as Hot Triple Sevens, Cycle of Luck, Inner Fire, Massive Luck, and various other creations, with their ingeniously designed gameplay mechanics and plots, promise players an extraordinary experience brimming with excitement.  
By incorporating the Evoplay slot games with sevens, casinos can tap into the nostalgic sentiment and excitement players associate with Vegas' casinos. This creates a unique and captivating gaming environment that acts as an activity booster.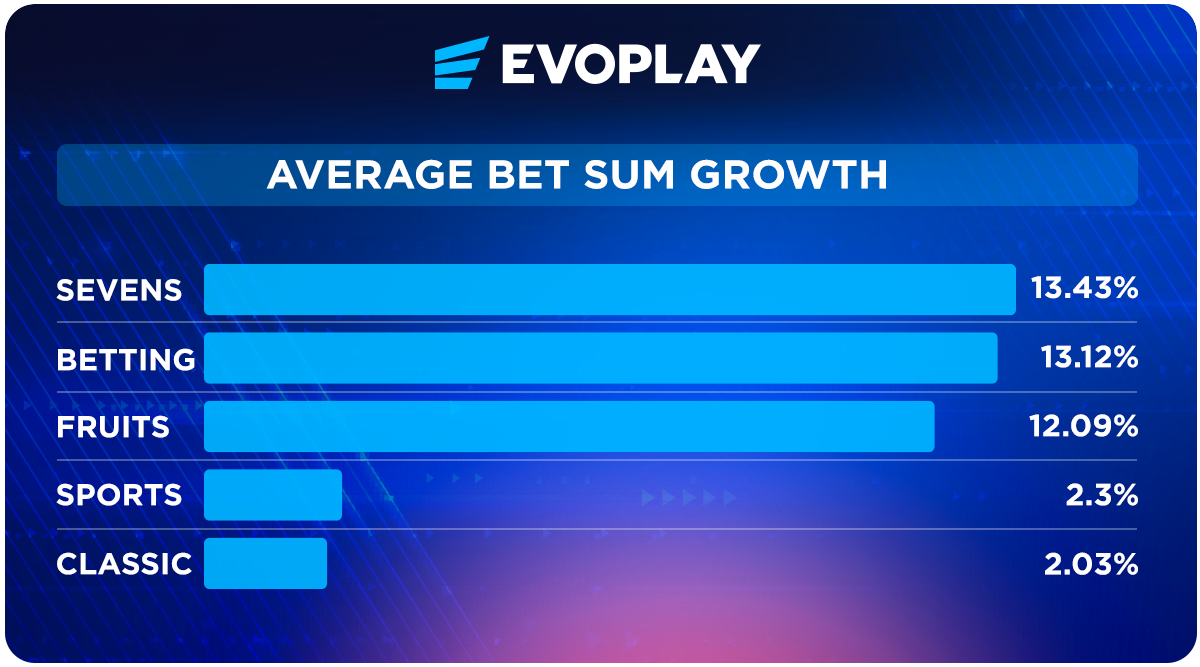 With a finger on the pulse of player preferences, we create captivating game titles that keep them engaged. Our diverse portfolio covers an impressively broad audience, offering an array of themes – from award-winning classic slots to innovative-genre products.
By adding Evoplay's games to your offering, you secure absolute visibility for your brand and unlock a multiplier in player engagement. Contact us at business@evoplay.games today, and let us help you transform your casino into a hub of excitement and success.