blog
The evolving landscape of instant game trends
12 May 2023
The world of online gaming is constantly evolving, and one trend that has gained significant popularity in recent years is instant games. These games are easy to pick up and play, providing players with a quick burst of entertainment they can enjoy in just a few minutes. As a result, instant games have become a go-to choice for many players and one of the most popular casino products available online.
They say the future of games is instant. If you're a casino, adding instant games to your offerings is a must. With the instant gaming trend showing no signs of slowing down, having these titles on your platform is essential to stay relevant and attract new players. Our instant game metrics have skyrocketed with explosive growth, providing the most convincing demonstration of this.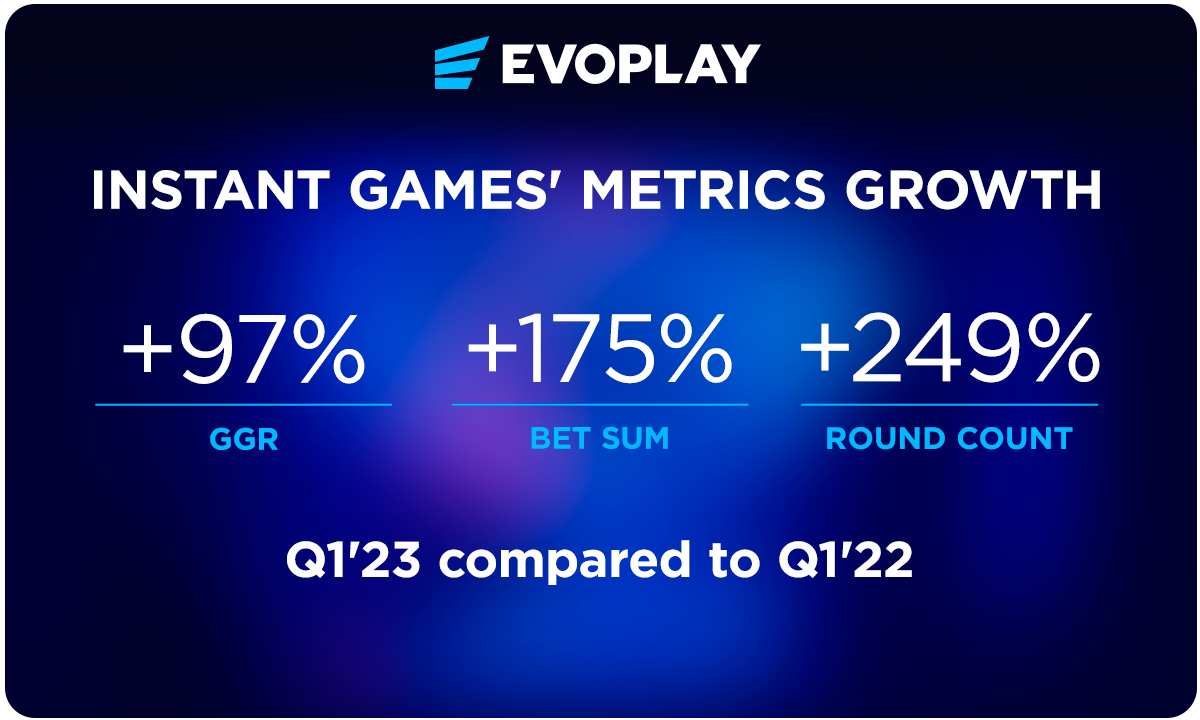 Trendspotting: instant games that resonate with players
It's time to jump on the instant online games trends that proved to have a sustained effect on the iGaming industry.
They want to join the crowd – here comes socket connection
Multiplayer games have established themselves as the top-grossing products, mainly in the video games sector. However, regardless of entertainment type, they have the exact nature and psychological background with gambling games available for several participants. It includes a vital social component, especially in titles with in-game chats implemented. The second factor – competitive spirit, which leaderboards can enhance. Seeing other players' wins supercharges adrenaline and inspires players to challenge themselves.   
Socket connection providing a single session for all players has brought a new era to instant casino play. Players got a brand new experience thanks to the connection's quick communication with a web server. Evoplay's socket-based crash games, such as High Striker, Save the Hamster, Football Manager, and Goblin Run, became a hit with players, directly reflected in the figures. In 2023, compared to 2022, the titles' average daily Bet Sum grew by 40%, with the Round Count metric hitting the x20% mark.
Sports games to score an engagement goal
With the Qatar World Cup having sparked a furore among sports fans and maximising the interest in sports content, instant football games got special attention. The trend continues gaining momentum, even after the event. Sports is an "evergreen" topic and a perfect setting for an instant game. Its framework allows developers to transport the atmosphere of a sports match to an online game with a fast result available. Penalty Shoot-out and its impressive became a vivid example of how players really crave the availability of sports content and the opportunity to place a bet before, during, and after sports events.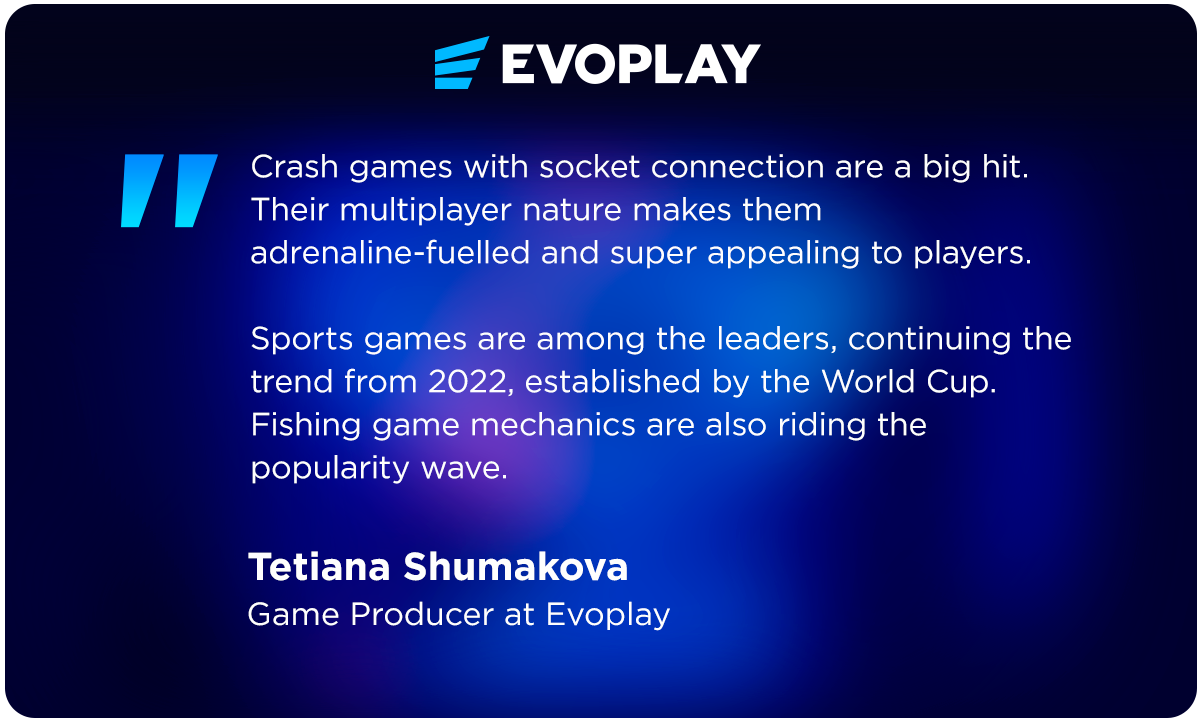 Fishing mechanic reels in more players
Players love this fishing mechanic because it offers a fun and engaging way to relax and unwind. The variety of fish to catch and rewards to earn adds a layer of excitement and replayability, ensuring a thrilling and rewarding experience. The mechanic is a perfect way to hook on those players who love to play instant games but search for fresh, dynamic gameplay. 
The fishing theme proved to be a big success in the Evoplay slots games and the iGaming industry. As one of the hobbies associated with relaxing yet exciting pastimes, the activity uniquely appeals to players in the online entertainment pond. 
Bet on a 2 bets feature
The double-bet feature is players' top pick when searching for instant games online. 
There are four reasons for this:
Increased chances of winning

: by placing two bets in one round, players increase their chances that at least one of the bets will result in a win.

Enhanced gameplay

: the 2-bet feature can also add excitement and variation to the gameplay.

Flexibility:

the feature provides players with greater flexibility in their betting strategies. For example, they may choose to place one bet on a low-risk option and one on a high-risk option, or they may choose to split their bets evenly between two options.
The multi-bet feature is like a golden ticket to the ultimate betting experience, as exemplified by Evoplay's Long Ball, Save the Hamster, Football Bet, Penalty Series, Lottery Ticket. 
Reasons why casinos can't miss out on instant games 
Instant play games are designed to be played quickly and without much preparation, making them perfect for players who want to enjoy a fast game. Additionally, instant games can be played from a wide range of devices, including smartphones and tablets, making them highly accessible for players on the go. 
From the casino's perspective, instant games can be easily integrated into their existing platform, providing a steady revenue stream. It makes them a win-win solution for both players and casinos alike.
Here are a few more reasons why instant games online are a valuable addition to a casino's portfolio.
The multitude of mechanics
With instant games casinos get an impressively rich entertainment offer for players due to the variety of mechanics they can be based on. With a vast selection of game mechanics at their disposal, developers create innovative and engaging games that are fun to play and offer a unique and personalised experience for each player. With so many options available, players are less likely to get bored and are more likely to stay engaged and interested in the game. This increased engagement can lead to higher retention rates, which is critical for the success of any online casino. Moreover, iGaming developers constantly search for new mechanics for instant online games to create unique products for players craving fresh gaming experiences.
The variety of settings
For a casino looking to stand out, instant gaming offers more ways to get maximum exposure. An instant game framework can accommodate any plot or theme with unique storylines and settings. With instant games, you can tap into the power of immersive gameplay – a journey through a carefully crafted world filled with excitement and adventure.
At Evoplay, we've capitalised on this fully, 'playing' with various settings. Football-themed titles allowed to cover a broader audience, engaging sports bettors and fans. Our unanimous hits are Penalty Shoot-out, portraying the atmosphere of a top-league competition, and Football Bet – a sportsbook simulator with matches available all the time. In Funny Hunting, we applied a carefree vibe – players find themselves in an amusement park's shooting gallery. Neon Shapes became a nostalgic moment where the modern twist was added to a much-loved old-school strategy game – Tetris. 
Immediate fun, the immediate result
Considering the excitement players get from an instant win game providers know it is part of a winning formula. Players are drawn to the thrill of receiving quick results, as it provides an instant sense of satisfaction and gratification. Waiting for extended periods to receive results can be frustrating and demotivating, especially in today's fast-paced world, where people are accustomed to instant gratification. The instant game outcome leads to increased enjoyment of playing, making fast games an ideal choice for those with busy schedules or limited time.
Tried and tested: games that meet players' demands instantly
To deliver an unmatched experience, the Evoplay instant games offer a diverse range of types that can cater to different players' varying tastes and preferences. This can help online casinos differentiate themselves from competitors, revamp their gaming selection and enhance their brand reputation as a destination for high-quality and varied gaming experiences. Evoplay's collection of instant gaming products includes but not limited to:  
bingo;

lottery/keno;

scratch games;

minesweeper games;

pinball;

dice games;

crash games.
The Evoplay instant play games have become a popular choice among players worldwide. These games have been designed to captivate players with engaging gameplay, stunning graphics, and exciting features. Meet our instant game top performers that have won over the crowd of iGamers – Penalty Shoot-out, Patrick's Magic Field, and Scratch Match. They have shown significant growth for the last year in terms of revenue: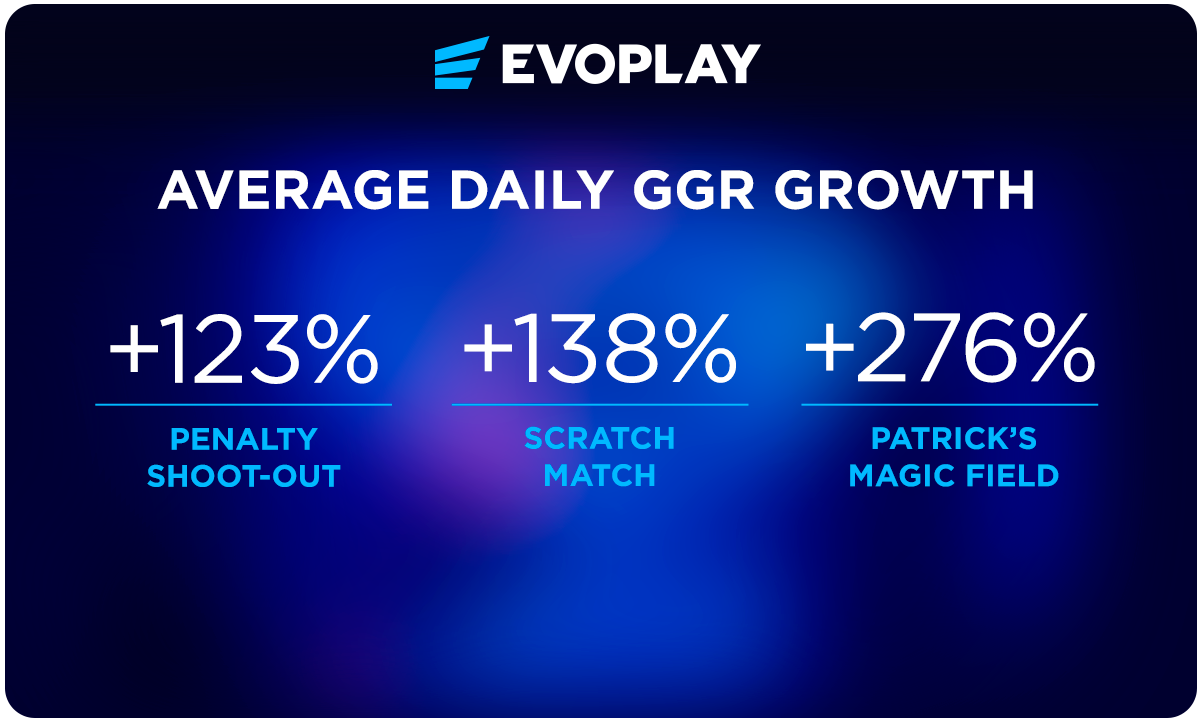 Penalty Shoot-out
Penalty Shoot-out, our football-themed, World Cup-inspired instant game, became a top goalscorer on the iGaming pitch. As sports content encompassing an ambience of a football tournament, a betting feature, and an instant result format, it captured the attention of sports fans worldwide. With the opportunity to select the country to play for, players step into the shoes of a striker who is despatching the spot-kick and ready to make a legendary goal,  turning the course of the history of his team and career. The anticipation and thrill are running high!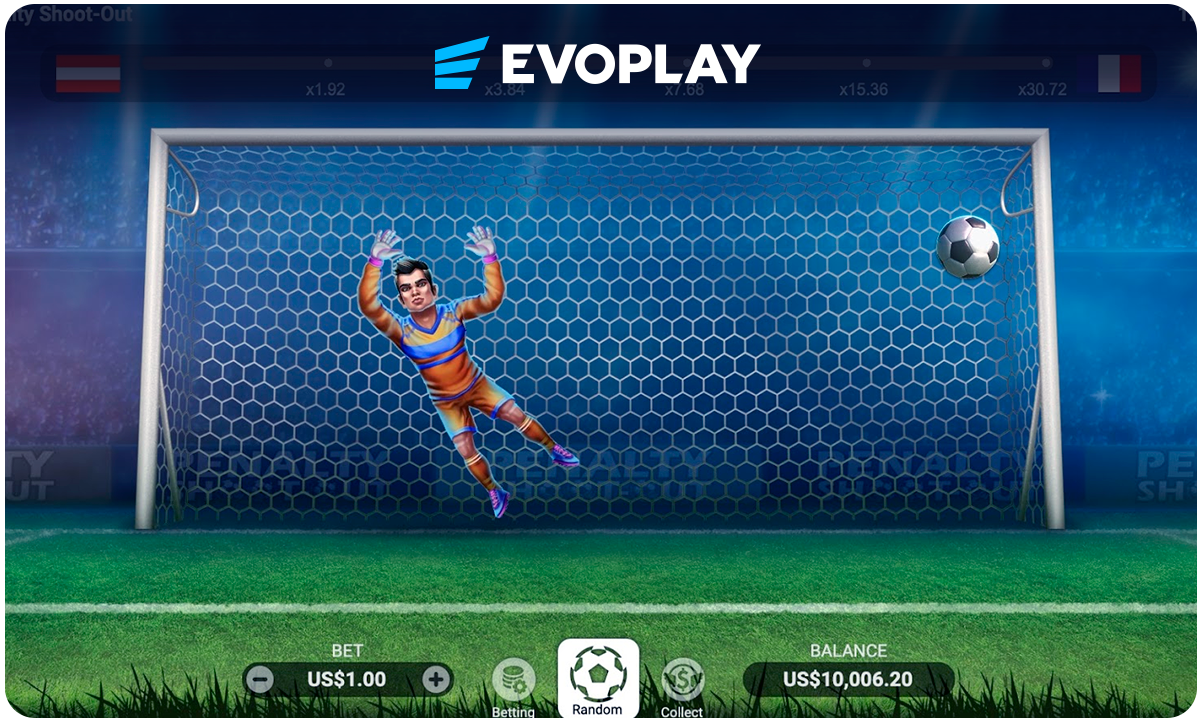 Patrick's Magic Field
Patrick's Magic Field is an Irish-themed instant game based on a minesweeper mechanic. It features a mischievous leprechaun who tests everyone who walks through her picturesque Rainbow Hill. Players uncover gold under lucky four-leafed clovers or step upon the traps, filled with exploding bombs, arranged by this not-very-hospitable creature. Patrick's Magic Field has a unique feature: a player can choose the risk level themselves, with the number of bombs increasing or decreasing. The game's dynamics and building anticipation as fewer and fewer sections remain undiscovered make it mega-immersive and enthralling!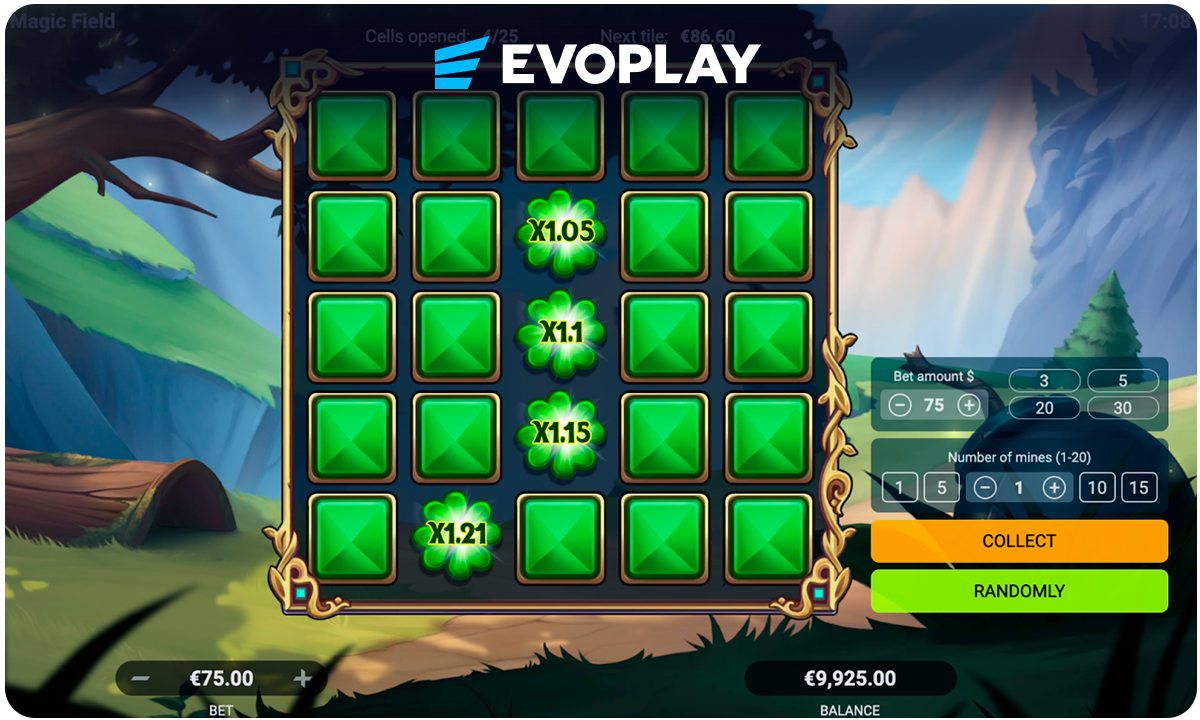 Scratch Match
Scratch Match is rounding out the top performers in our instant game category. It is a fast lottery game in which players search for winning numbers in a lottery ticket. The game's simple rules make it a go-to title for many players. Only a click is needed to reveal the hidden number and compare it with the winning one. The breathtaking moment of seeing a match brings a wave of euphoria washing over players! At that moment, nothing else matters as they bask in the glory of their good fortune!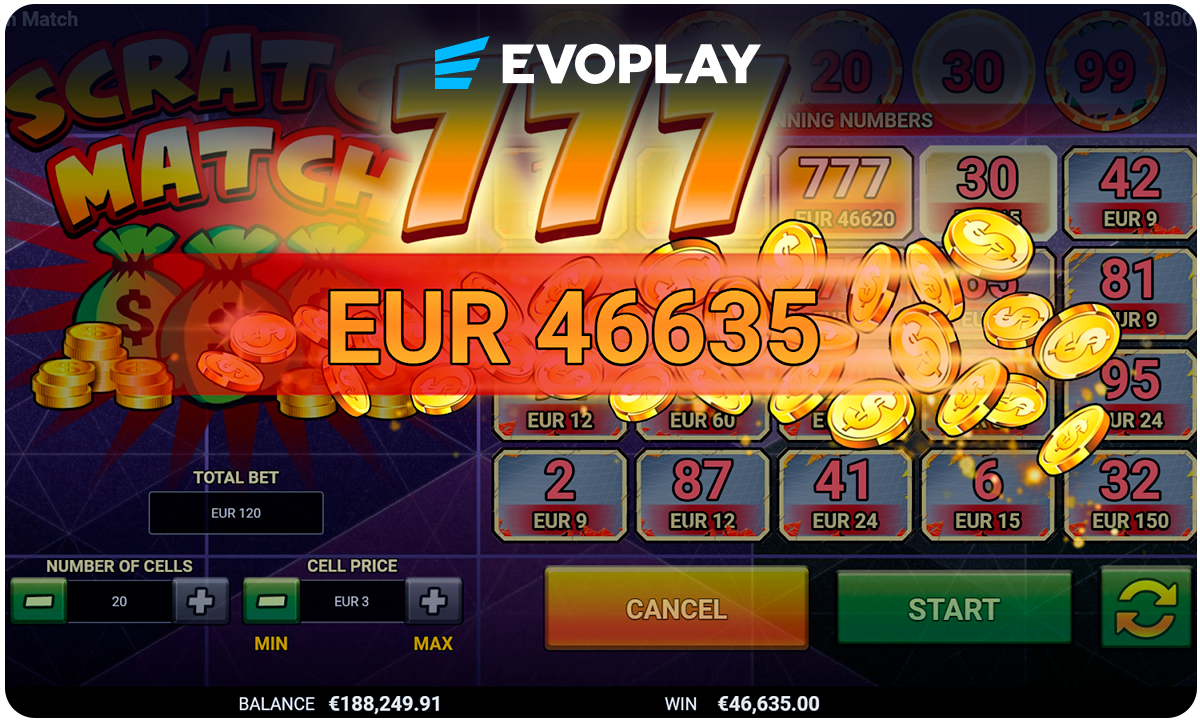 Instant games provide a new way to engage with your audience and keep them returning. By offering quick, exciting gameplay experiences that can be enjoyed on various devices, you can keep your players entertained and interested in what you offer.
Overall, instant games are a trend businesses in the iGaming industry simply can't ignore. With their popularity, ease of integration, and ability to be customised to fit your brand, fast games provide a valuable new way to engage with your audience and grow your business. So why wait? Start exploring the world of instant games today and see how they can benefit your business – drop us a line at business@evoplay.games.